Matt Kloskowski

Colby Brown

Blake Rudis

Doug Landreth

Hudson Henry

Frank Salas

James Brandon

Jim Welninski

Mike Long

Sal Cincotta
Spring into summer is about helping photographers with their editing process. Easy to follow videos, practice files, and presets will give you what you need to become an expert. That's not it though. We teamed up with the best companies and people in the photography industry to give you additional benefits and bonuses on products and services you will love. All for the ON1 community. Happy editing!
Training & Bonuses You'll Love

Low Time Commitment
You'll get high value and impactful training in a short amount of time

Learn at Your Own Pace
You can also download the video, follow along photos, presets, and even PDF instructions (for some photos)

Get the Look From the Pros
Download the preset each professional uses on their images and add it to your ON1 preset library

Sponsor Bonuses
We've teamed up with some amazing sponsors to bring exclusive bonus offers to the ON1 Community

Download ON1 Photo 2017
All-in-One: Organizer, Editor, Raw Processor, and Effects App
This Week's FREE Download
Watch Blake Rudis take a boring afternoon photo and transform it into a beautiful sunset. Blake never hesitates to use his camera, even when "the light isn't right". With a little visualization, the proper tools, and a hint of creativity, you can make any photo work.
Download
Download includes video, preset, follow along photo & PDF.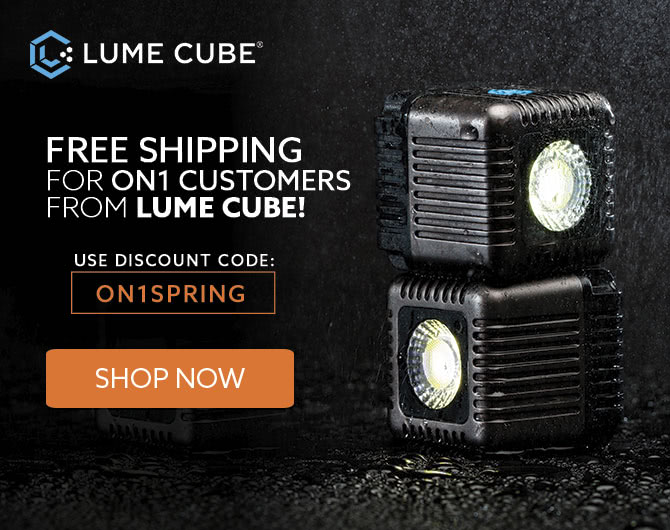 FREE SHIPPING on ALL Lume Cube products for ON1 customers
Lume Cube, the most versatile flash & video lighting device on the market, is offering FREE SHIPPING to YOU for a limited time! Use code ON1SPRING at checkout.
New Bonus Offer Every Two Weeks!
All Free Videos and Presets
For the entire Spring into Summer series, we will keep adding to our library. You will be able to download everything at any time.
Come Back Each Week!
More videos, presets, and great offers