ON1 HDR
HDR Photo Editing Software
NEW version 2023 - Now Available
Flawless HDR Photos
ON1 HDR editing software creates flawless, natural HDR photos, that combine the highlight and shadow details from a bracket of exposures, in the blink of an eye. With our HDR photo editor, you can control the movement, such as clouds and running water, with a live preview. Then, perfect your HDR photos with powerful tools and presets that showcase your creativity. ON1 HDR photo editing software works as a standalone and a plugin for Lightroom® Classic CC.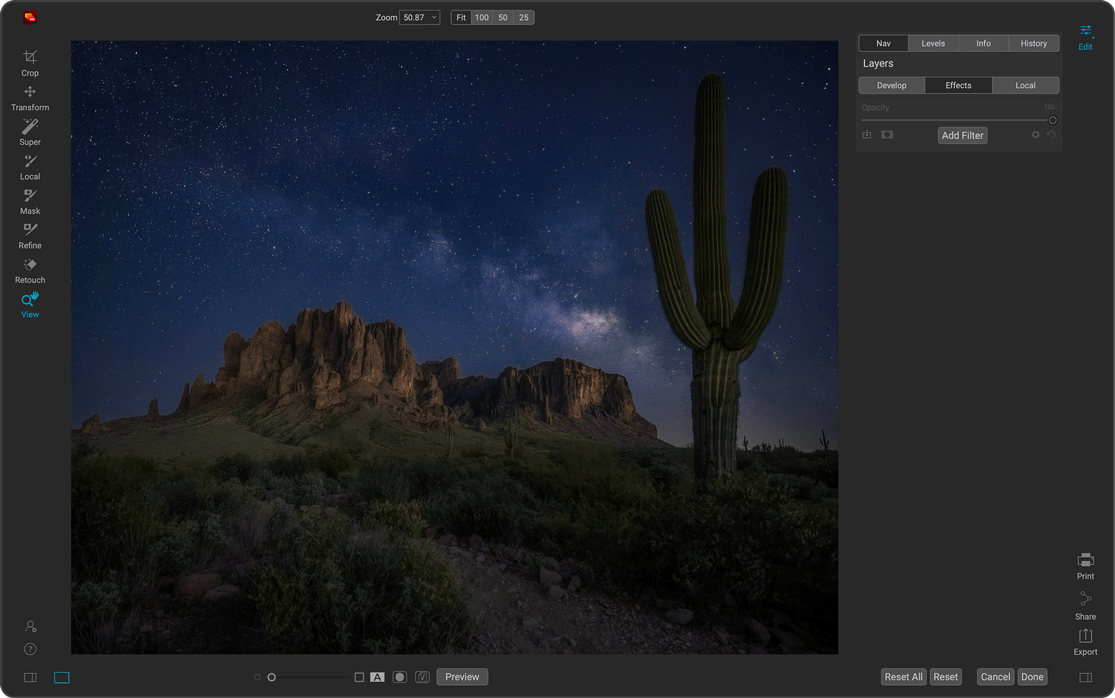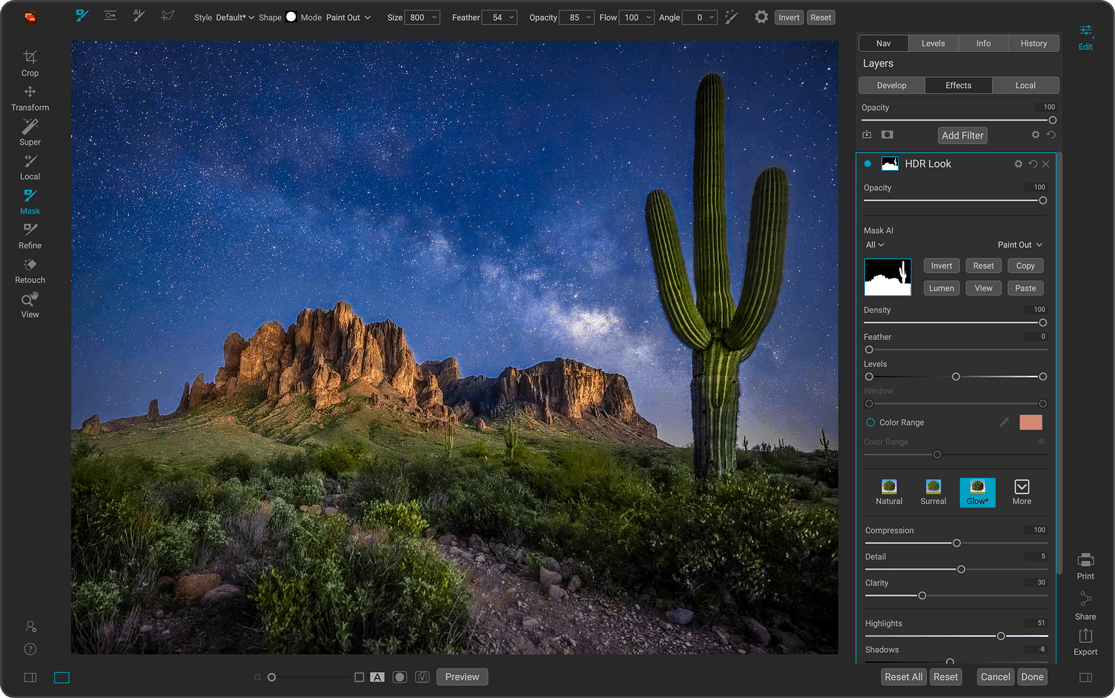 What's New
in

Our HDR Photo Editor?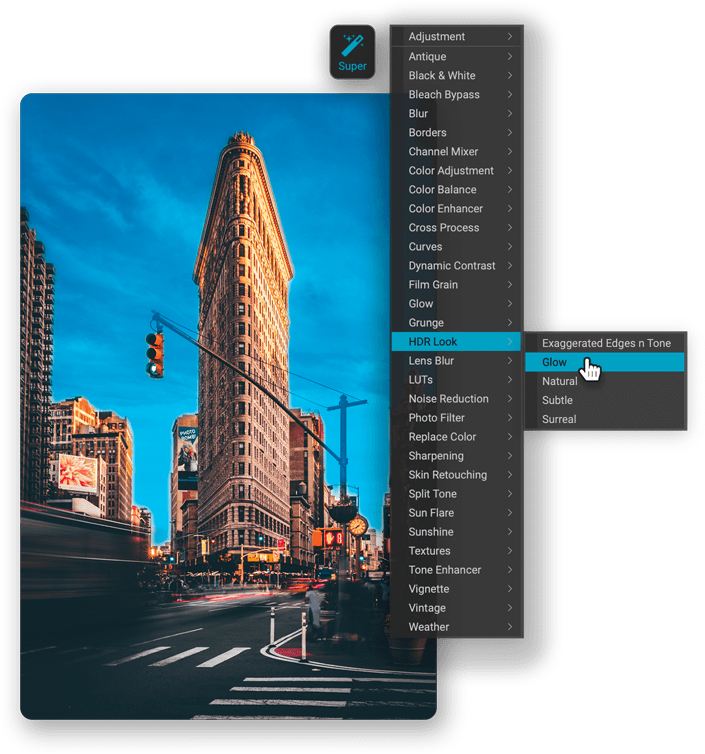 Super Select AI Tool
Applying adjustments to areas in your photos couldn't be easier than the new Super Select AI Tool. Just tap on the areas you want to adjust and then pick an adjustment. Want the sky darker? Click-click-done. How about making the grass greener? Click-click-done. Want to blur the background, you get the idea. It's an incredibly fast and natural way to work that will completely change the way you interact with your photos.
Mask AI
Say goodbye to tedious brushing thanks to our HDR editing software. Mask AI uses state-of-art machine learning to segment photos, identifying objects like people and animals, as well as regions like the sky, mountains, trees, water, and ground. When masking layers, effects, or local adjustments, you can select subjects or regions from the list. Mask AI will create great-looking masks instantly. You can even choose regions to apply filters or adjustments to when you add them, making it easy to get the adjustment you want.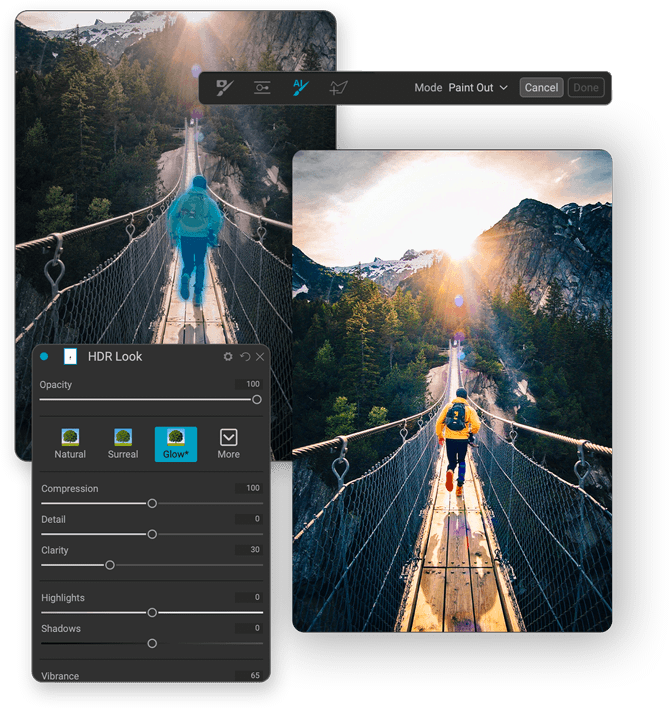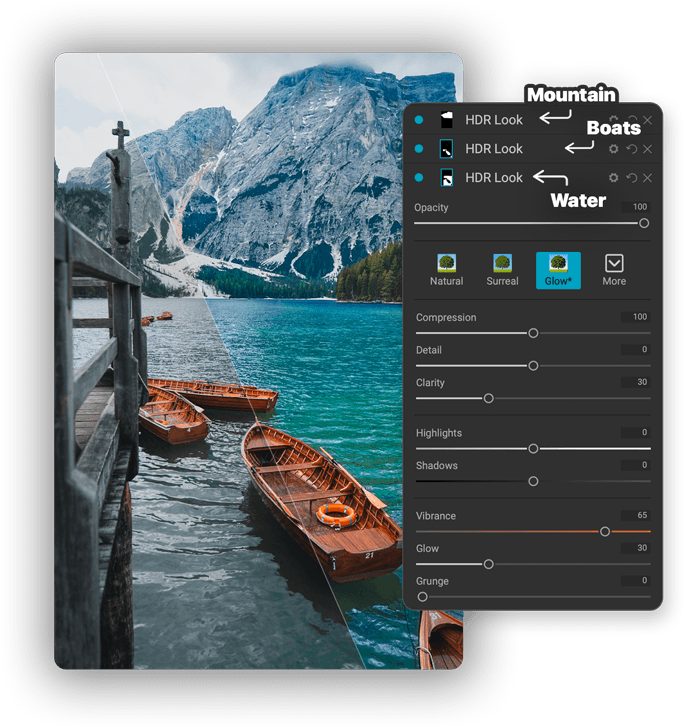 AI Adaptive Presets
Presets just got even more powerful. Now they can target common subjects like people, water, skies, and buildings automatically. The awesome new AI Adaptive presets give you one-click solutions to tough problems like brightening the subject, darkening the sky, or adding detail to foliage. Best of all, you can create your own AI Adaptive presets.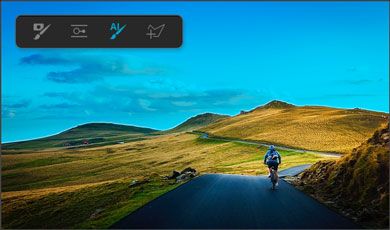 Quick Mask AI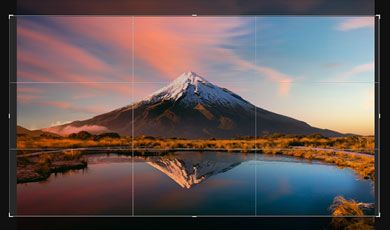 Content-Aware Crop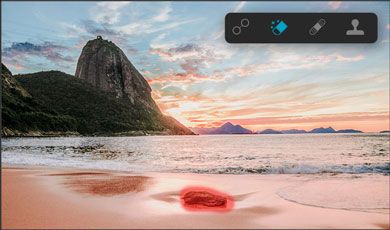 Improved Perfect Eraser
Speed
Slow renderings of your photos are a thing of the past. You can see the results in seconds vs. minutes when compared to the competition.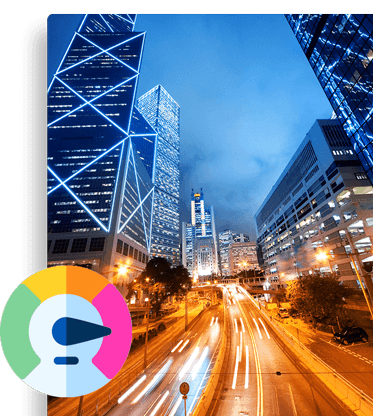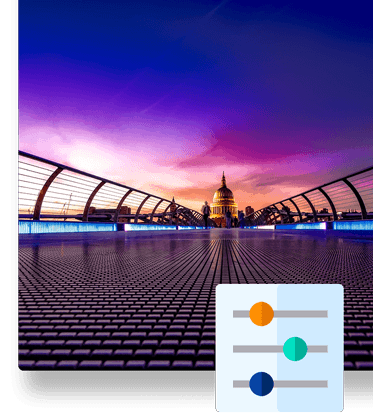 Control
You control the motion with live de-ghosting controls. Everything you need to make it look great including tone & color, layers, retouching and special effects.
Re-Editable
Preview and control noise reduction, lens corrections, and chromatic aberration anytime. Re-edit any of your settings at a later date in ON1 HDR.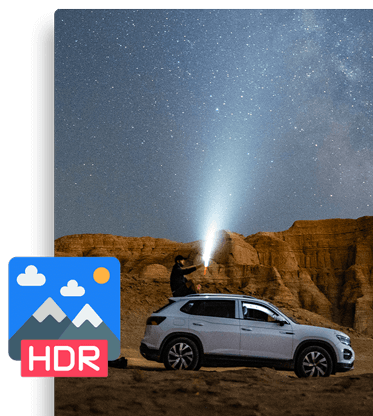 Create Awe-Inspiring HDR
Tone mapping and merging exposure brackets combined with layers allows you to combine other HDR photos and even alternate exposures.
Auto-aligns photos & removes ghosting
Up to 7x faster than leading HDR apps
Combine other exposures with HDR photos
Create natural or surreal looking HDR photos
Get HDR Looks From a Single Photo!
You don't have to shoot a bracket of exposures to create an HDR look. With ON1 HDR photo editing software you can open a single, well-exposed raw photo and use the HDR toolset to reveal all of the shadow and highlight detail.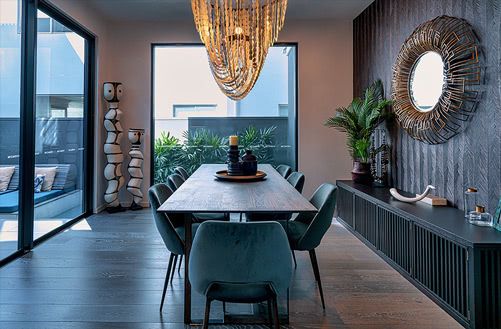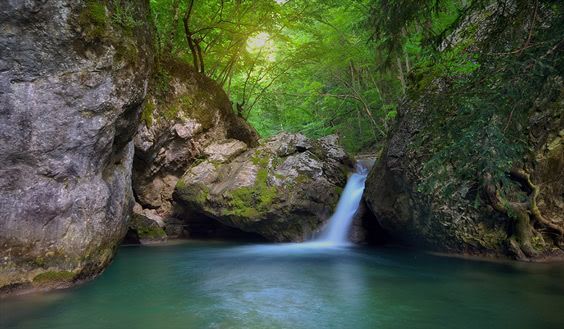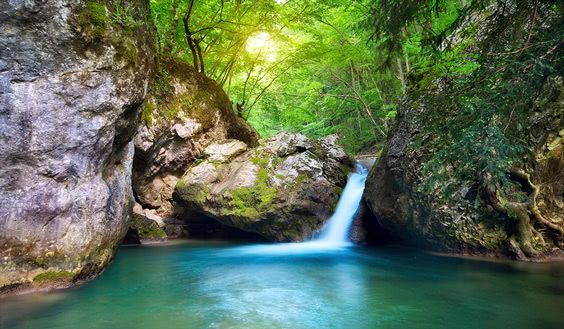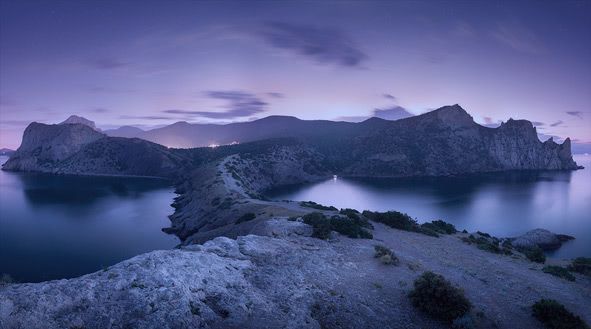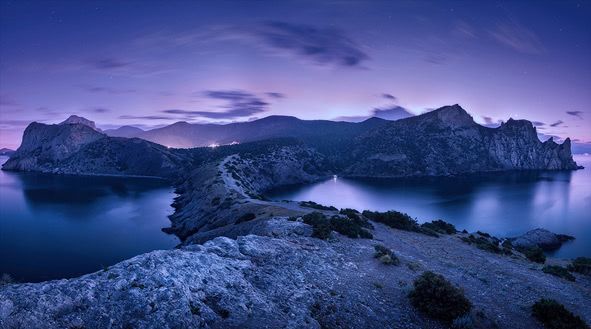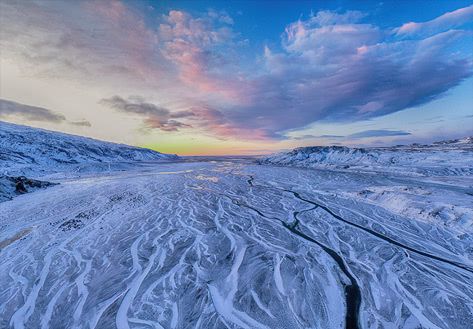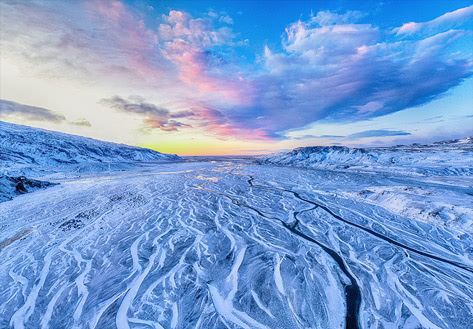 Batch Process HDR Files
Perfect for Real Estate Photographers
Your files work with ON1 HDR's broad file support. It can handle raw photos from over 800 cameras spanning 20 years. Plus, it supports PSD, TIF, JPG, PNG, and HEIC.
Creative HDR with the Best Photo Effects
When you combine the best photo effects and filters with HDR photo software in one workflow you get amazing results. Mix and combine color and tone enhancers, HDR Look, Dynamic Contrast, Glow, Black and White, LUTs, and more. It even includes tons of professional-grade presets to get you started.

HDR Editing Plugin to the
Adobe® Lightroom Classic Workflow
ON1 HDR editing software works where you do. Work as a plugin or as a standalone application. So whether you want to integrate with your existing Lightroom workflow or quickly get in and out while editing HDR photos, the choice is yours.
HDR 2023 Requirements
Operating System
macOS 10.15.6 and above
Windows 10, 11
(current maintenance releases, 64 bit only)
Processor
Intel® or AMD processor with 64-bit support; 2 GHz or faster processor with SSE 4.2 or later or Apple Silicon
RAM
8 GB
Hard Drive
2 GB for installation
Graphics
Windows - DirectX 12, DirectML, Vulkan 1.1, and OpenGL 4.2 compatible video card with 2GB VRAM, 1920x1080 resolution (at 100% scale factor)
macOS - Metal, Vulkan 1.1, and OpenGL 4.2 compatible video card with 2GB VRAM, 1920x1080 resolution (at 100% scale factor)
Optional Integration
Photoshop Lightroom Classic 2020 and above
Capture One 10 and above
Internet
A high-speed internet connection and active account for activation, auto-update checking, content downloads, and tutorials.
Supported Options
Supports pressure-sensitive tablets for controlling brush size and/or opacity
Supports ICC/ICM profiles for camera input, display, soft-proofing, and printing. Hardware display calibration tool is recommended
Supported Languages
English, German, Spanish, French, Japanese, Korean, Simplified Chinese, Russian, Portuguese, Italian, Dutch
Own It Outright
Buy ON1 HDR by itself or, if you don't need plugin functionality, get it as part of ON1 Photo RAW - the ultimate all-in-one raw photo editor. You'll own it outright and receive free updates to version 2023.

ON1 HDR 2023
Works as a Standalone Application & Plugin
On Sale!
Prices and order total include VAT/Tax
On Sale!
Prices and order total include VAT/Tax
Includes all ON1 HDR 2023 version updates and activation on 2 computers

ON1 Photo RAW 2023.5
Own it. Works as a Standalone App.
On Sale!
Prices and order total include VAT/Tax
On Sale!
Prices and order total include VAT/Tax
Includes all Photo RAW 2023 version updates and activation on 2 computers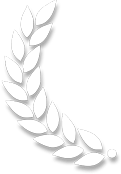 The ON1 Guarantee
No Risk • No Questions Asked • 30-Day Money-Back Guarantee • World Class Support • Tons of Free Training Videos