ON1 Resize AI
AI Photo Resizer Software
New

Version 2023.5 - Now Available
Image Resizer Software
The Industry Standard for Photo Enlargements
ON1 Resize AI, the next-generation photo resizer software, gives photographers the highest quality photo enlargements. This super-resolution AI image resizer will allow any photographer to enlarge photos while quickly maintaining and recovering incredible detail and sharpness.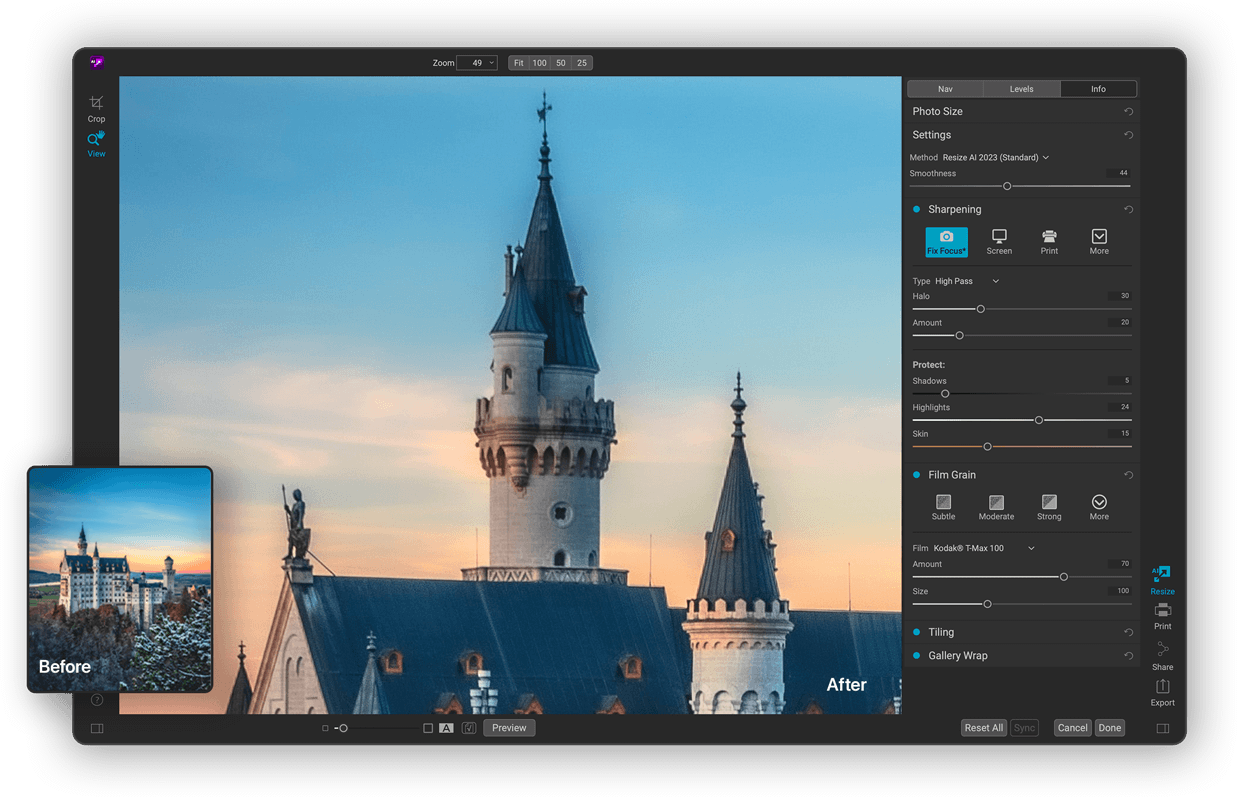 A Fully Integrated ON1 Resize AI in Photo RAW
ON1 Resize AI
2023.5

is Here!

See What's New in Our Latest Update to Resize AI
Available in 2023.5
Face Recovery
In 2023.5, we're adding a machine-learning model that detects small faces and enhances them with realistic detail. It's perfect for old group photos, or when you must crop one person out of a photo.



It can virtually reconstruct a face from modest details to realistic features and textures. You can turn this feature on or off for each face as well as control the overall strength to blend best with the original photo.
ON1 Customers ON1 Resize AI 2023.5

"Just tried out the ON1 resize face recovery feature. I only tried it on one image so far and I have to say I have never seen anything like this. And I have tried every AI 'face recovery' app on the market. Really incredible. Beyond extraordinary. Jaw dropping. I literally can't believe the results!"
— Lorne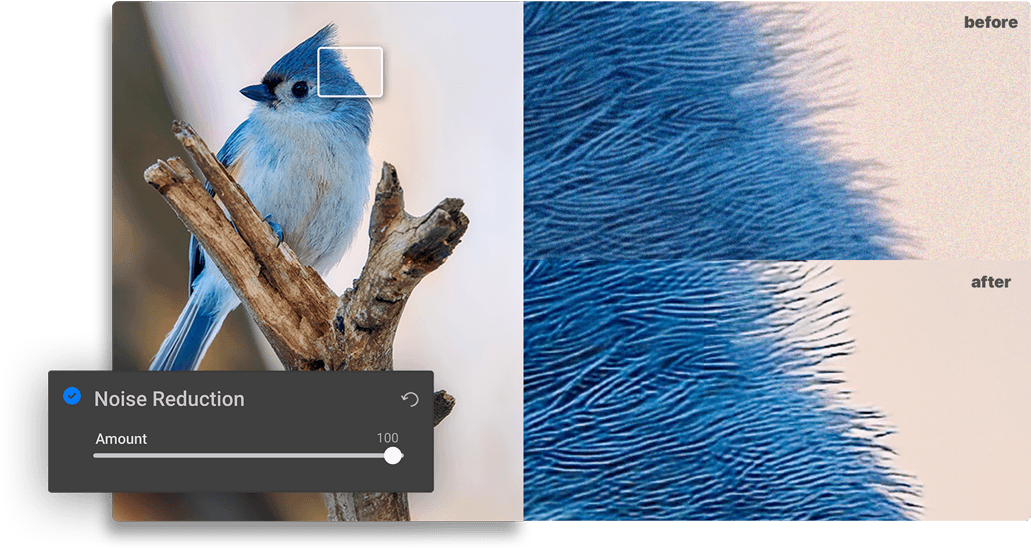 Available in 2023.5
Better Upscaling Results
For original photos with high noise or JPG artifacts, you can now use the built-in noise reduction, powered by NoNoise AI, to reduce the noise and artifacts as part of the resizing workflow, leading to higher quality enlargements.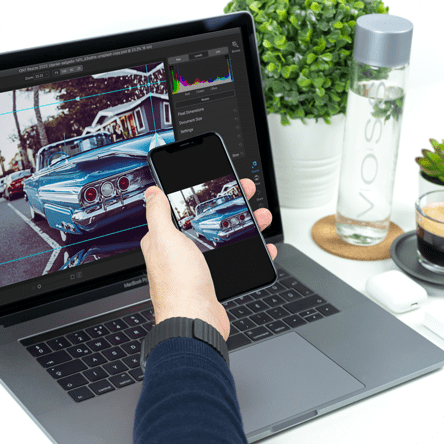 How Our Photo Resizer Software Stands Out
ON1 Resize AI uses state-of-art neural networks to enlarge photos without losing detail
The ultimate workflow integration – ON1 Resize AI goes beyond the average plugins when it comes to integration with the host applications
Print directly from the app – ON1 Resize AI excels at making stunning poster-sized prints
Powerful batch processing lets you get work done in record time
Unique tiling and gallery wrap features

Tools for Printing Big
Photo enlargement software should deliver the highest quality photo prints. ON1 Resize AI excels at making prints using state-of-the-art technology. You can enlarge your images to any size and not lose sharpness or details in your prints.
Create Gallery Wraps
The gallery wrap feature creates extended margins for wrapping your photo around wooden stretcher bars for canvas prints.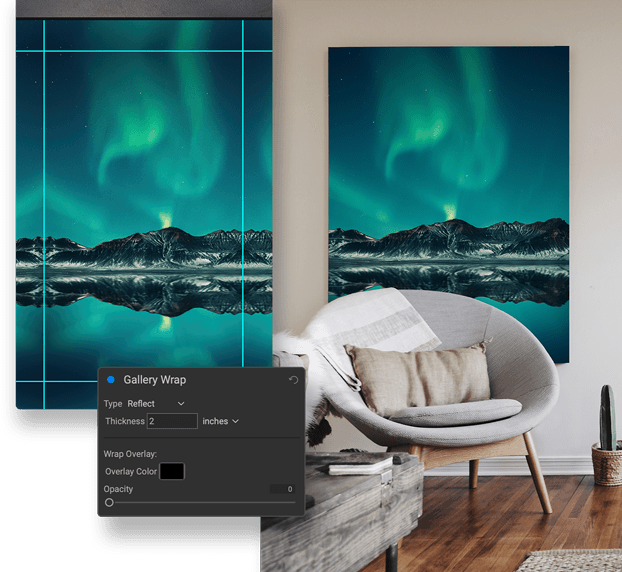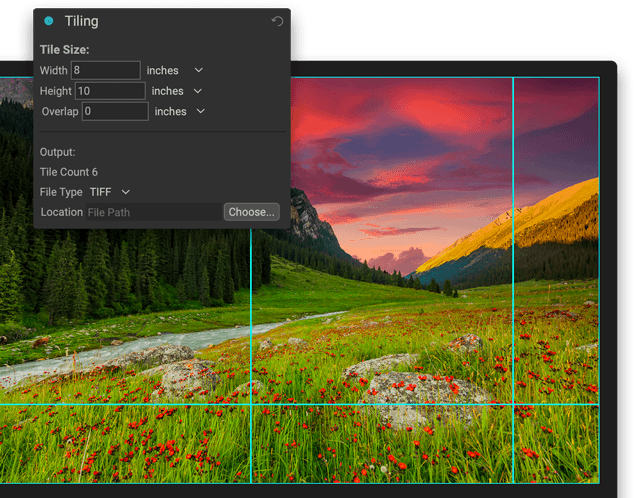 Tiling Feature
The tiling feature divides the photo into tiles or strips to make it easier to print a mural.
Get Beautiful Prints Every Time
with Our AI Image Resizer
Print individual photos, contact sheets, a wall portrait, or tile multiple photos into package prints. Also, print multiple photos on one piece of paper to create packages.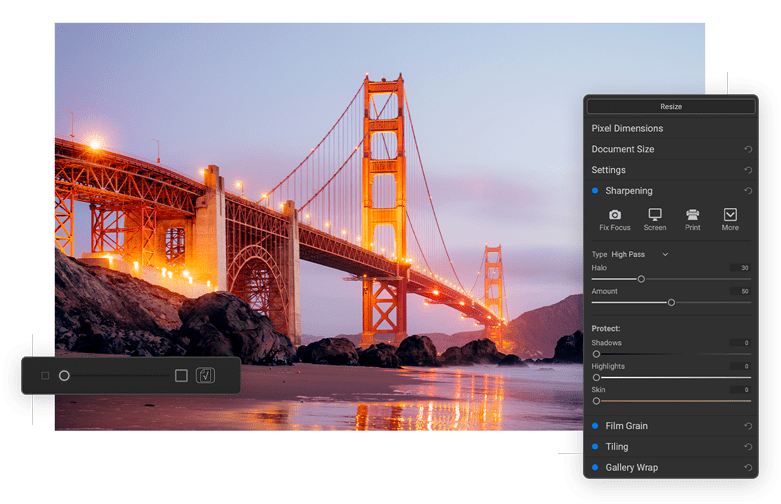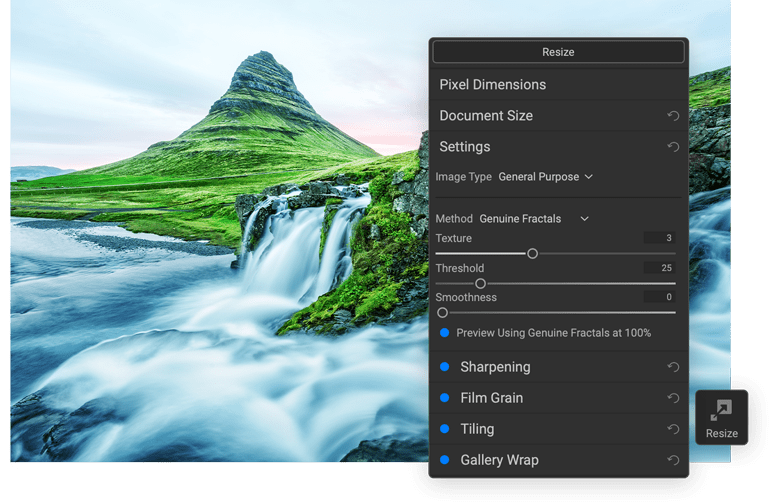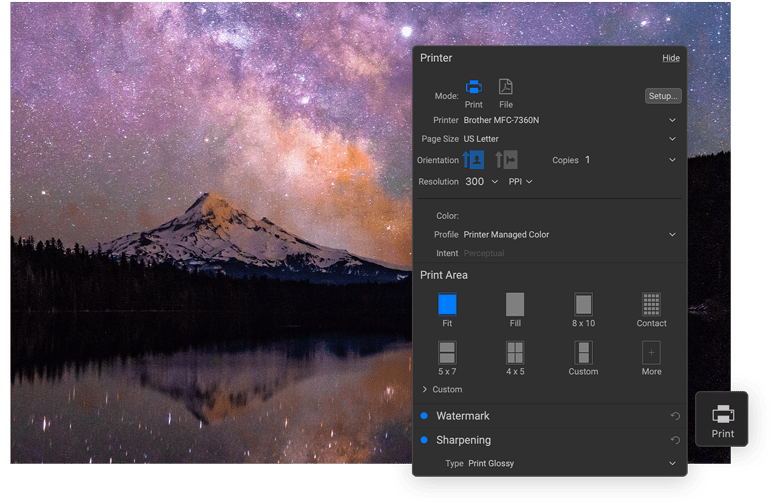 Better Batch Processing
The export feature in ON1 Resize AI makes it easy to process a single photo, a handful or hundreds of them. Not only can you control the size, but the file type, naming, location, etc. You can even apply gallery wrap or watermarks on the fly.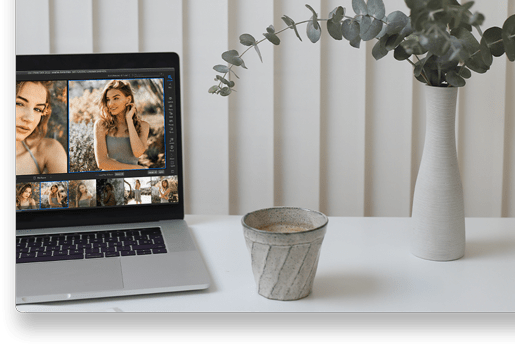 Maintain an Amazing Amount of Detail
Studying millions of examples of the everyday world allows ON1 Resize AI to upscale photos and their textures to virtually any size, leaving photographers with ultra-high resolution images.
Amazing Detail
Perfectly Sharp
Maintain Textures
No Artifacts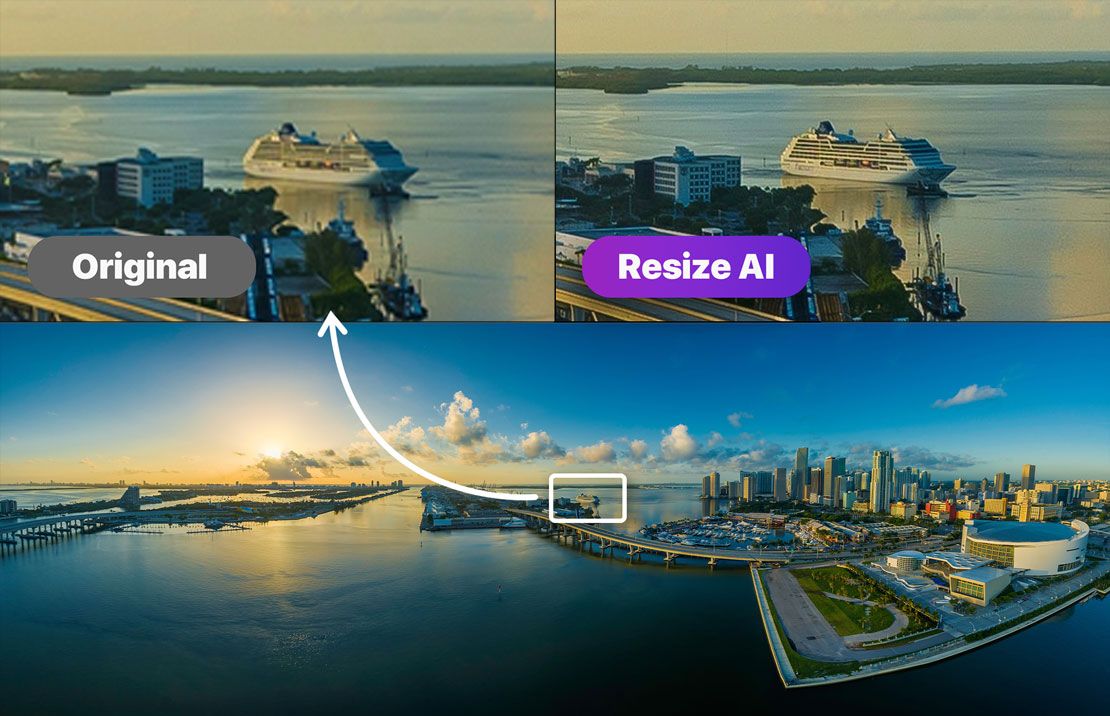 Keep the Crisp Details
ON1 Resize AI uses deep machine learning to study different details we see in the world, whether natural textures like animal fur, tree bark, feathers, grass, leaves, rock, and skin to man-made textures like concrete, fabric, or brick.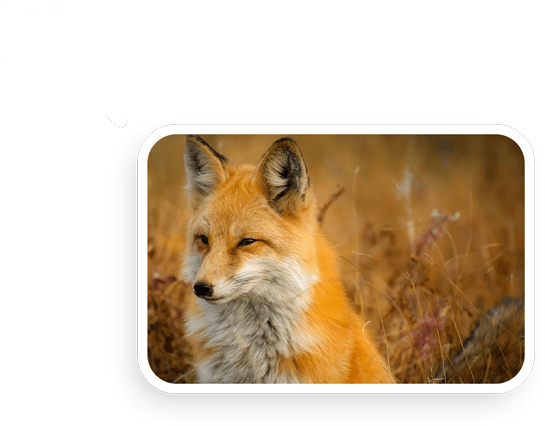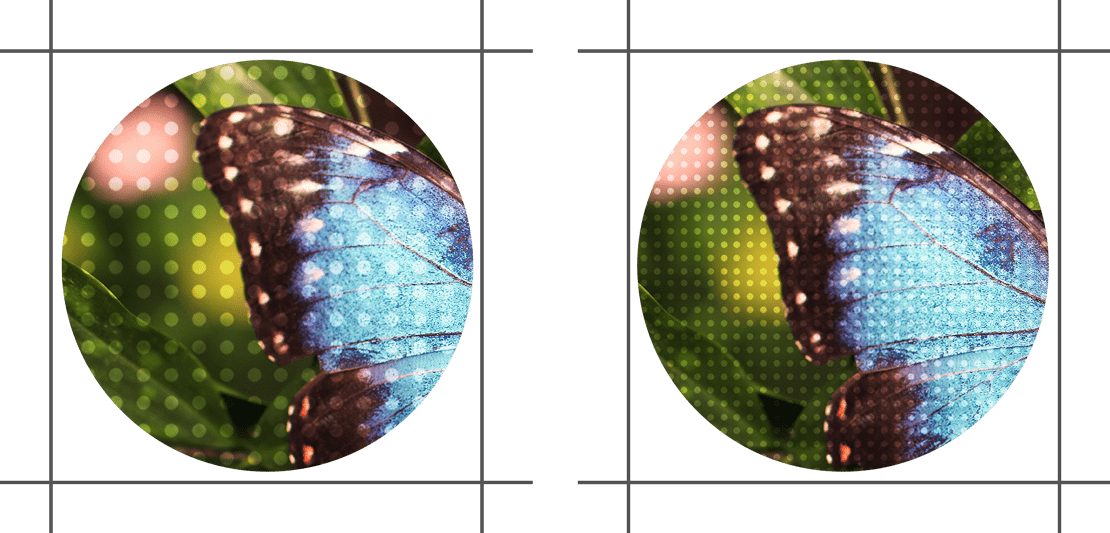 When it comes to preparing your photo to print, knowing the proper resolution for your printer and the correct amount of sharpening for your paper choice can be daunting. ON1 Resize AI's built-in presets make this a breeze. Simply pick the kind of printer, the type of paper, and the size.
Our Image Resizer Software Works as a Plugin
for Adobe Lightroom, Photoshop, and Capture One
Resize AI goes beyond the average plugins. In Capture One and Lightroom, you can batch process easily with powerful new resizing options. Adobe Photoshop can handle layered files with masks, alpha channels, text, and adjustment layers in RGB, CMYK, Grayscale, and LAB.
Resize AI 2023.5 Requirements
Operating System
macOS 10.15.6 and above
Windows 10, 11
(current maintenance releases, 64 bit only)
Processor
Intel® or AMD processor with 64-bit support; 2 GHz or faster processor with SSE 4.2 or later or Apple Silicon
RAM
8 GB
Hard Drive
2 GB for installation
Graphics
Windows - DirectX 12, DirectML, Vulkan 1.1, and OpenGL 4.2 compatible video card with 2GB VRAM, 1920x1080 resolution (at 100% scale factor)
macOS - Metal, Vulkan 1.1, and OpenGL 4.2 compatible video card with 2GB VRAM, 1920x1080 resolution (at 100% scale factor)
Optional Integration
Photoshop CC 2020 and above
Photoshop Elements 2020 and above
Photoshop Lightroom Classic 2020 and above
Capture One 10 and above
Internet
A high-speed internet connection and active account for activation, auto-update checking, content downloads, and tutorials.
Supported Options
Supports pressure-sensitive tablets for controlling brush size and/or opacity
Supports ICC/ICM profiles for camera input, display, soft-proofing, and printing. Hardware display calibration tool is recommended
Supported Languages
English, German, Spanish, French, Japanese, Korean, Simplified Chinese, Russian, Portuguese, Italian, Dutch

ON1 Resize AI 2023.5
Buy ON1 Resize AI by itself and you'll own version 2023.5 outright. Or, if you don't need plugin functionality, get it as part of ON1 Photo RAW - the ultimate all-in-one raw photo editor. Photo RAW has ALL of our AI editing technologies built in!
Subscribe to ON1 Everything instead to get ALL of our software and future upgrades including ON1 Photo RAW, all 6 plugins for Lr/Ps, any new titles, and ON1 Cloud Sync for syncing photos across devices. There's no commitment - cancel at any time and use the software for the full term.

ON1 Resize AI 2023.5
Works as a Standalone Application & Plugin
On Sale!
Prices and order total may include VAT/Tax
On Sale!
Prices and order total may include VAT/Tax
Includes all ON1 Resize AI 2023 version updates and activation on 2 computers

ON1 Photo RAW 2024
Own it. Works as a Standalone App.
Prices and order total may include VAT/Tax
Prices and order total may include VAT/Tax
Coming this fall. Includes all v2024 updates and activation on 2 computers. Use v2023.5 today.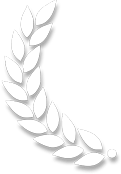 The ON1 Guarantee
No Risk • No Questions Asked • 30-Day Money-Back Guarantee • World Class Support • Tons of Free Training Videos