An Integrated
ON1 Photography Workflow.
How It All Works.
Very soon, your ON1 workflow will reach new heights. We will deliver a complete line of photo and video products to all levels of photographers providing an integrated creative workflow. ON1 Photo RAW 2020 gives you everything you need for desktop editing. ON1 Photo Mobile 2020 will provide you the power of Photo RAW on your devices and offer you pro-level controls for capturing new images. When you combine the two using the new ON1 Sync service, you can view and edit photos across devices without requiring you to store them in the cloud or a closed system. All designed to keep you in control of your photography.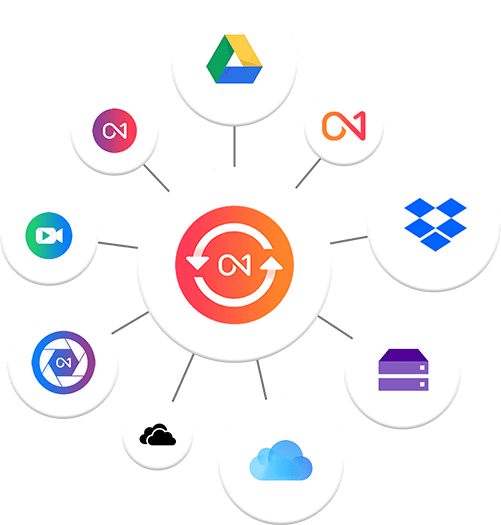 ON1 Photo RAW 2020.1
Photography Your Way.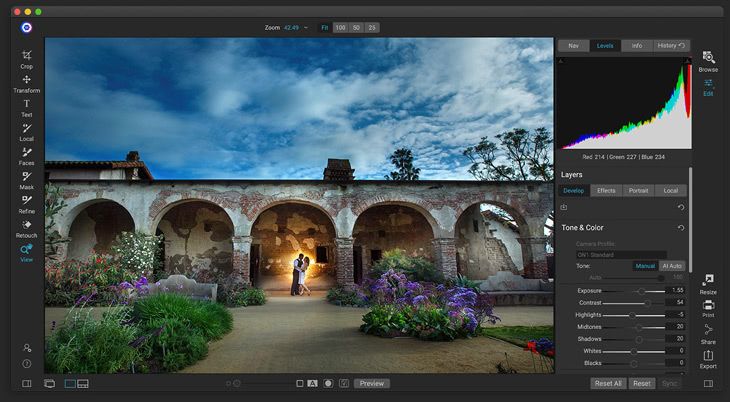 This professional-grade photo organizer, raw processor, layered editor, and effects app, includes everything you need in one photography application. The newest features include AI-powered features AI Match and AI Auto, four filters in Effects (Weather, Sun Flare, Color Balance, Channel Mixer), improved decoding of raw files (especially for Fujifilm), custom camera profiles with X-Rite, SmugMug integration, improved noise reduction, a map view, a Print Module, speed/performance enhancements, and much more! Try it free for 30 days →
Learn more →

ON1 Photo Mobile 2020
Your Photography Anywhere.
Remove Distractions
Easy retouching and clean up tools.
Local Adjustments
Make targeted edits to any part of your photo.
Presets
Use your favorite presets for styling.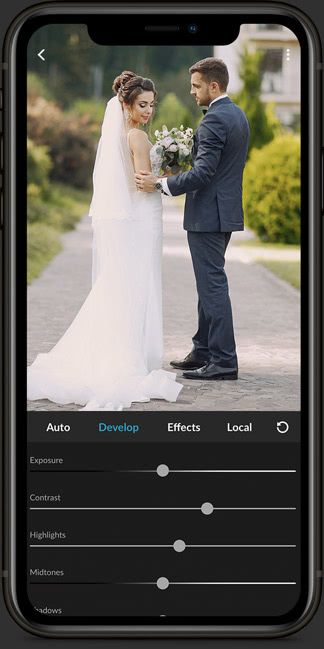 Enhance Shadows
Bring out the details in the darker areas.
Editing Controls
Edit photos with similar controls found in Photo RAW.
Stay in Sync
A complete photo editing and organizing system.
With ON1 Photo Mobile, you can capture pro-level raw photos on your smartphone. Then edit them with the same power as you do in ON1 Photo RAW, like enhancing the shadows, removing the distractions, darkening the sky, and more. Your smartphone photos can then be sent back to your computer when you combine the power of ON1 Photo Mobile with ON1 Sync. Coming in 2020 for iOS and Android.
Learn more →

ON1 Sync
Complete Control of Your Photos.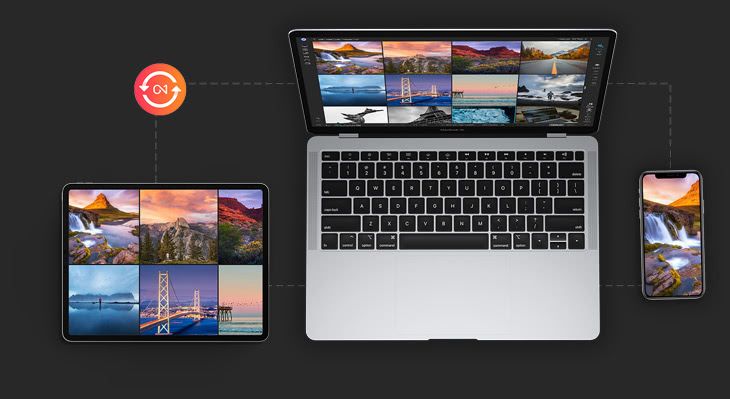 This new ON1 service provides you complete control of your photos. You can view and edit photos with ON1 on all your computers (and all your mobile devices — soon too!) without requiring you to store your photos in the cloud or a closed system. This new service syncs photos, their metadata, and edits, as well as albums, presets, and more between your computers.
Learn more →

ON1 Video 2020
Video Editing for Photographers.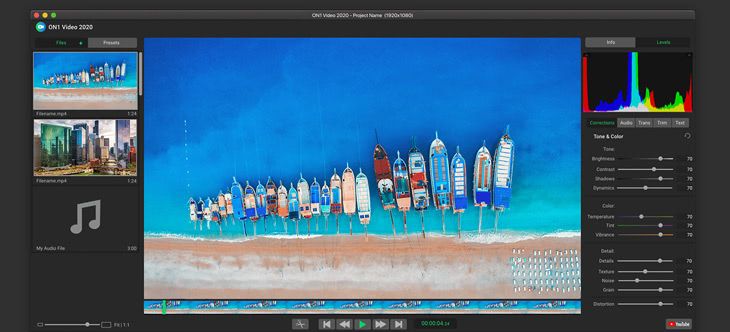 ON1 Video 2020 is a new video editing app explicitly designed for the photographer. You no longer need to learn complex videography terminology like other video editors to create stunning clips quickly. ON1 Video will be a simple, yet robust video editor that removes the learning curve of other video editors. It will be the perfect solution for wedding, action, and drone photographers. Coming in 2020.
Learn more →
ON1 Effects 2019
Hundreds of built-in photo effects, filters, LUTs, borders, textures, and presets — all completely customizable to your style.
Learn More
ON1 Resize 2019.5
Use the industry standard for photo enlargements with Genuine Fractals® technology. Now includes ON1 Browse!
Learn More
ON1 Plus
Become a master at using ON1 Photo RAW 2020.1!
ON1 Plus provides in-depth monthly video courses on using ON1 Photo RAW and video courses from top photographers on the topics you care about most. Ask questions, share photos, get priority support, and more.
Learn More