Cyber Week
Savings
View Photo RAW Deals →

Discounts only valid for new software purchases & excludes Photo RAW subscriptions
The Easiest Way to Stay Organized
ON1 Photo RAW is one of the most straight-forward photo editors to get up and running quickly. Just navigate to where your photos live like you would using a file browser, and you are off and running.
Quick Access to Your Photo Library Powerful cataloging and organization features are built-in.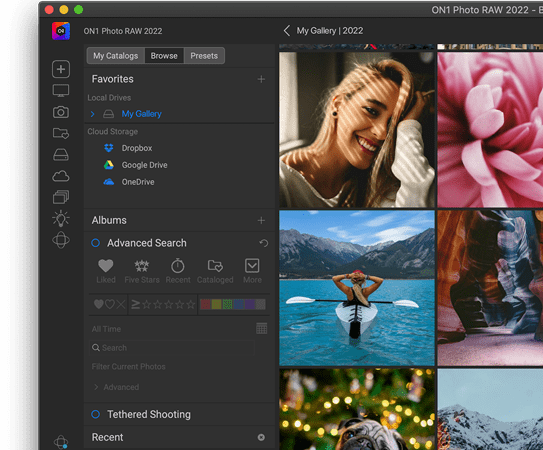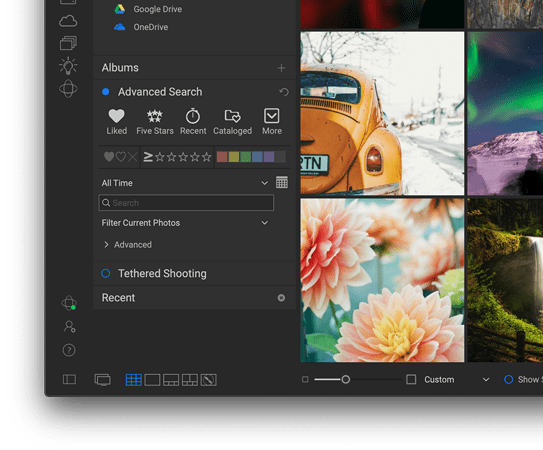 Multiple Ways to Quickly Cull and View Your Photos View folders of images, in thumbnail or detail view, based on the folders, albums or filters you have chosen via the browser.

Star Ratings

Color Labels

Likes

Keywords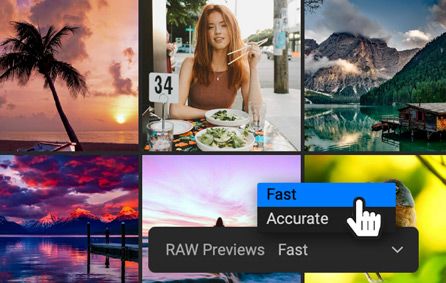 Fast Preview Mode
Sometimes, when you get back to your computer after a shoot, you want to be able to go through a large number of photos quickly, looking for your best shots. ON1 Photo RAW's Fast Preview mode lets you do just that.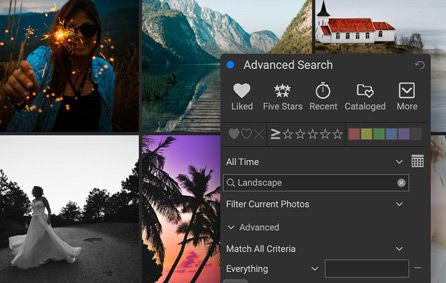 Advanced Search
Find photos based on a variety of criteria specific to the metadata embedded in your photos.
Your Photos, Multiple Views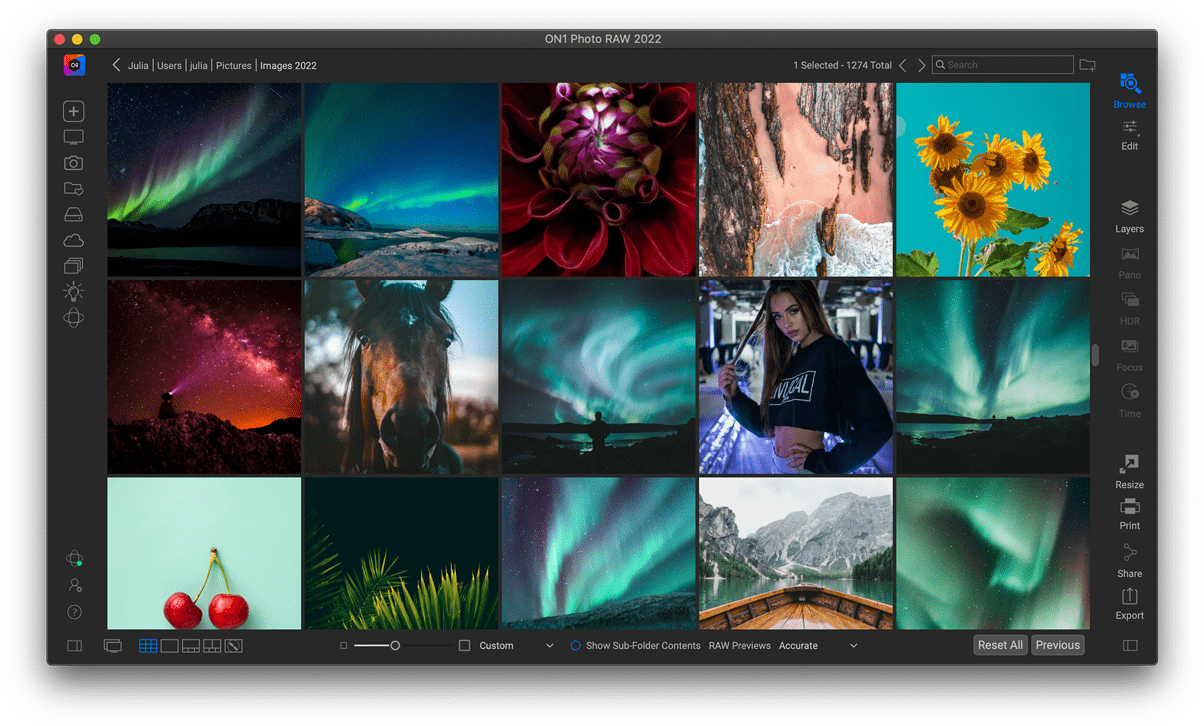 A grid of thumbnails of your images. This view also displays folders, letting you go up and down a folder hierarchy quickly.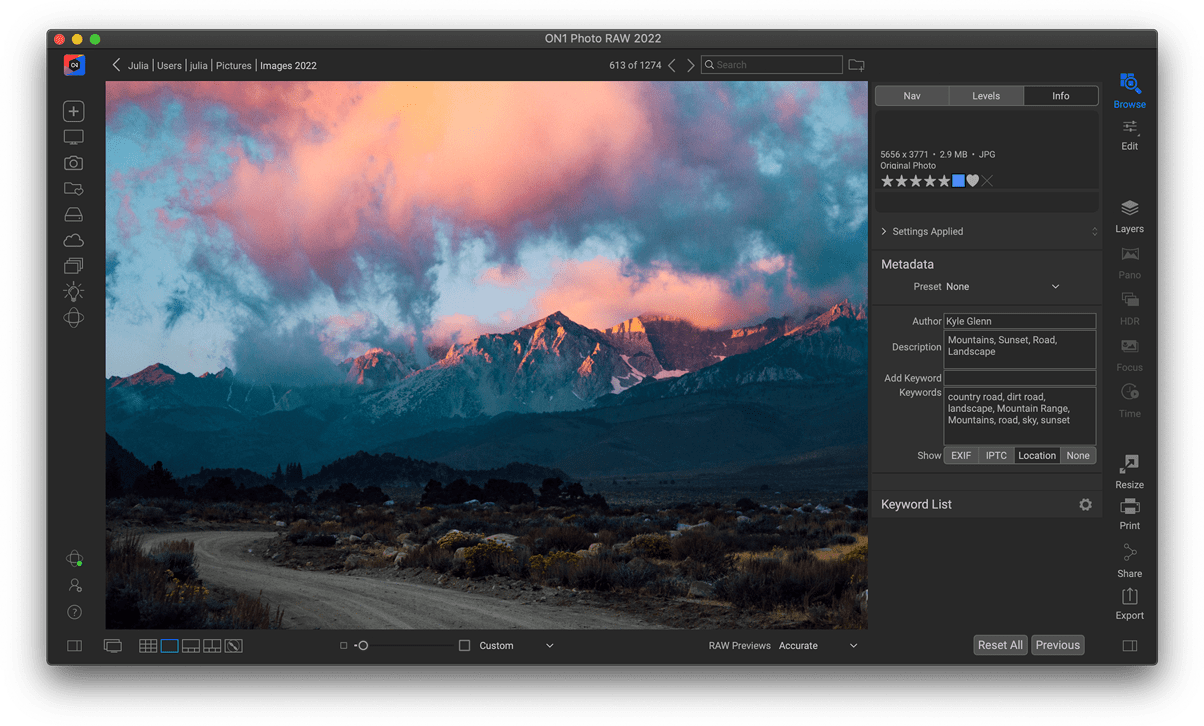 View images in either 'fit to window' view, or can zoom in to see more detail.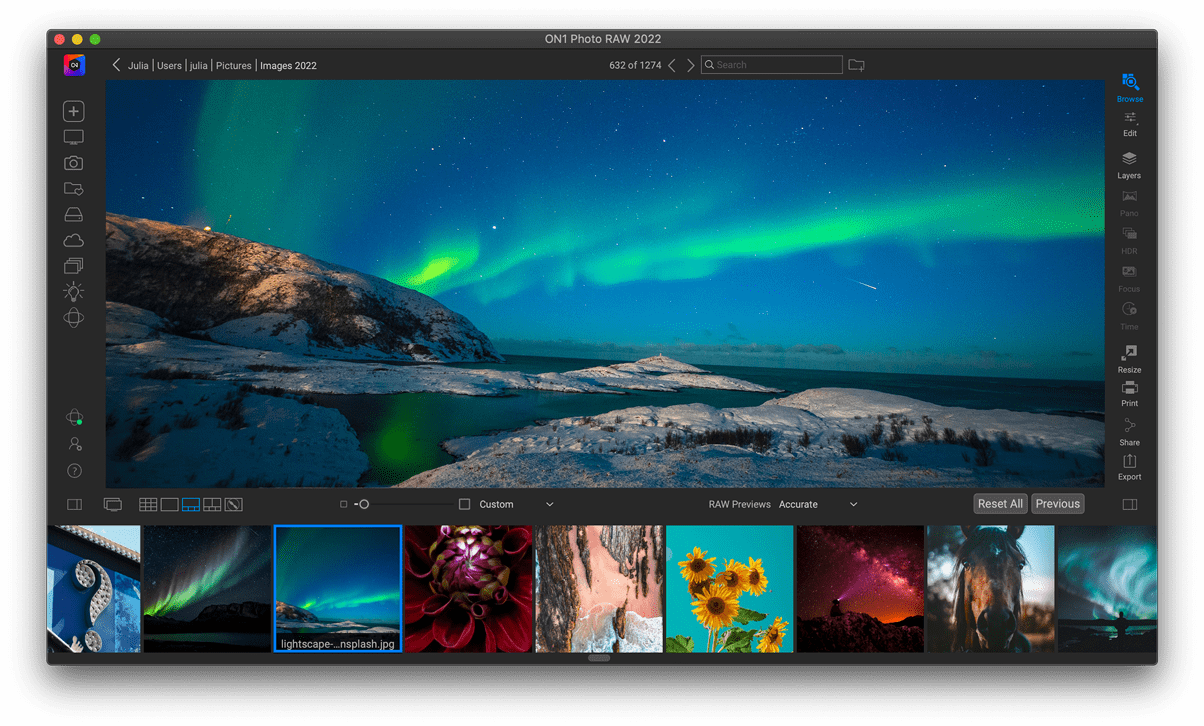 Displays a strip of images from a folder or album at the bottom of the screen.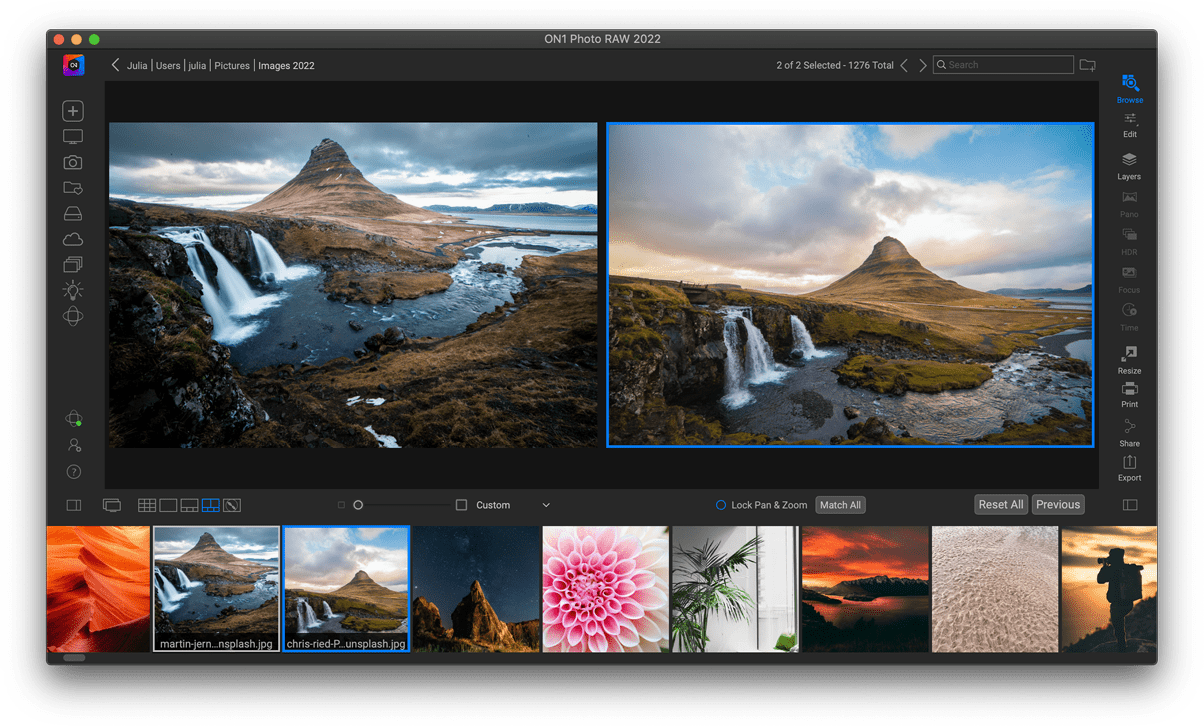 Compare a group of photos in separate panes inside the preview area. Also zoom in on one or all of the selection, and lock the panning so that, as you move around one photo, the others move with it. Using Compare, you can quickly find the best images in a sequence, whether it be for composition, sharpness, facial expressions or more.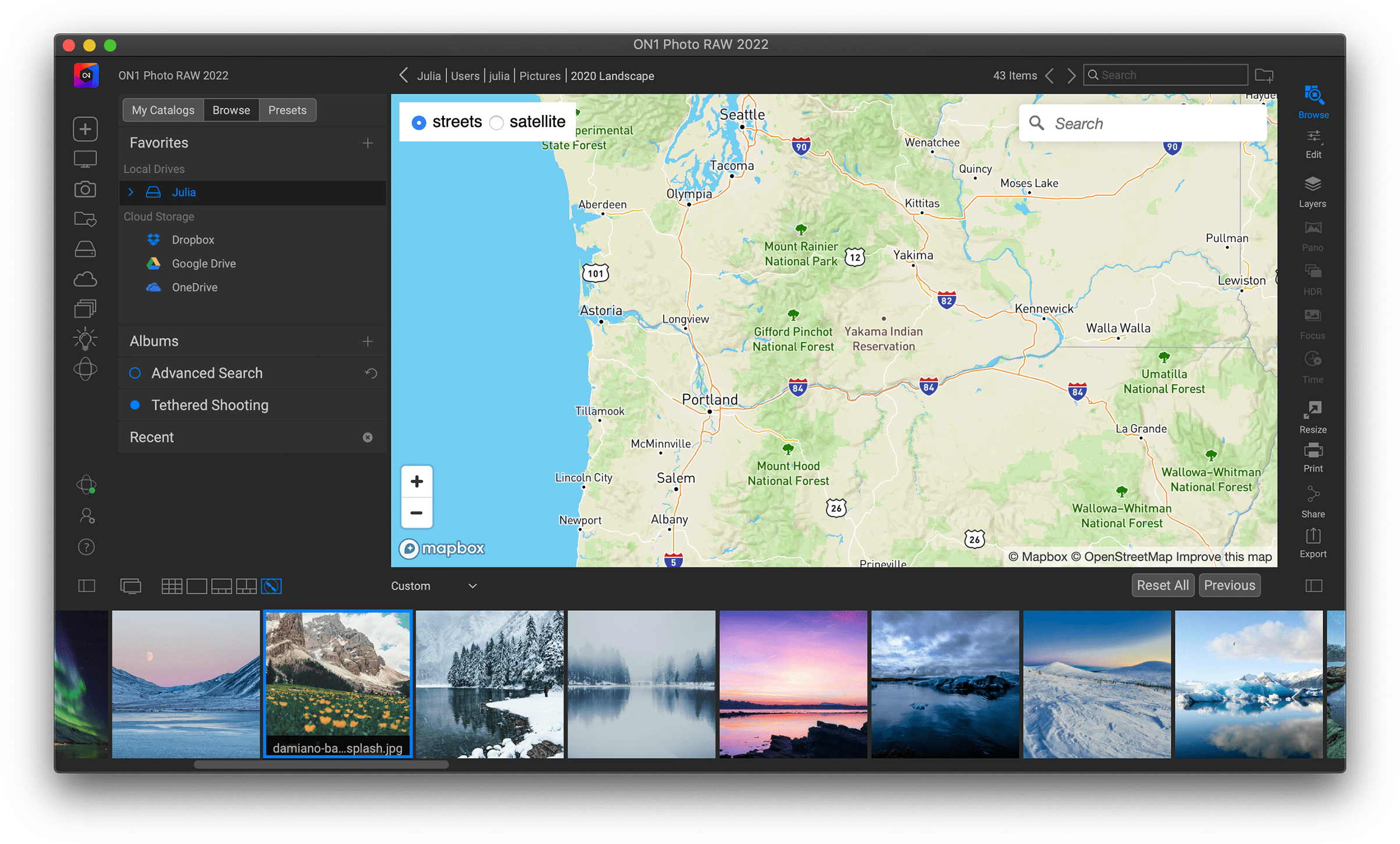 Display locations for photos that have GPS-based location data, or to search for locations that can then be applied to a photo or group of photos.
Tethered Shooting
The ultimate photo editor is also the ultimate tool for your tethered shooting. With ON1 Photo RAW, you can remotely control a camera connected to your computer via USB, and capture images from the camera to your computer.
A Powerful Export and Image Converter
Create and save export presets and run them right from the file menu. Even run more than one simultaneously! Quickly create DNGs or export copies of the original and use file renaming that is infinitely flexible, as is the creation of destinations. Also apply multiple watermarks at the same time. You'll have total control over what metadata is written to exported files.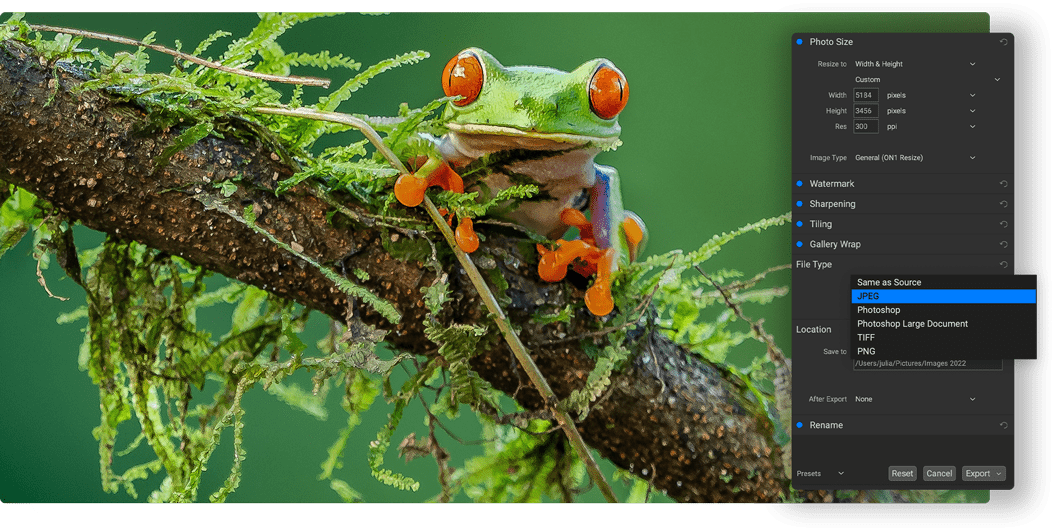 ON1 Photo RAW 2022
Get 25% Off Instantly!
Get HUGE Cyber Week savings TODAY on the best all-in-one editor available! Key new features in Photo RAW 2022 include the fully integrated NoNoise AI, Sky Swap AI, Time-Lapse, enhanced Export and Browse, and much more. All of ON1's technologies are built in - Effects, Resize, Portrait AI, HDR, Focus, Layers... everything!
Discount not valid for Photo RAW subscriptions or previous purchases

+

ON1 Photo RAW Subscription
Photo RAW 2022
Why Subscribe?
Subscribe Monthly or Yearly
Always have the latest version!

Photo RAW 2022
Upgrade
For previous owners
Includes All 5 Plugins
Not a Subscription
Coupon automatically applied!

Photo RAW 2022
Full Version
For new customers
Includes All 5 Plugins
Not a Subscription
Coupon automatically applied!