The
Only

Lightroom Alternative
Make the Switch to ON1 Photo RAW 2022.5

The Alternative to Lightroom
and So Much More!
The game has changed. ON1 Photo RAW 2022.5 includes a streamlined workflow that is elegant, powerful, and easy to learn. It gives photographers the features they use the most from Lightroom® and Photoshop® in a single application. An alternative to Adobe® that photographers have been looking for in a single solution from one company where the photography community drives product development.
This is ON1 Photo RAW 2022.5.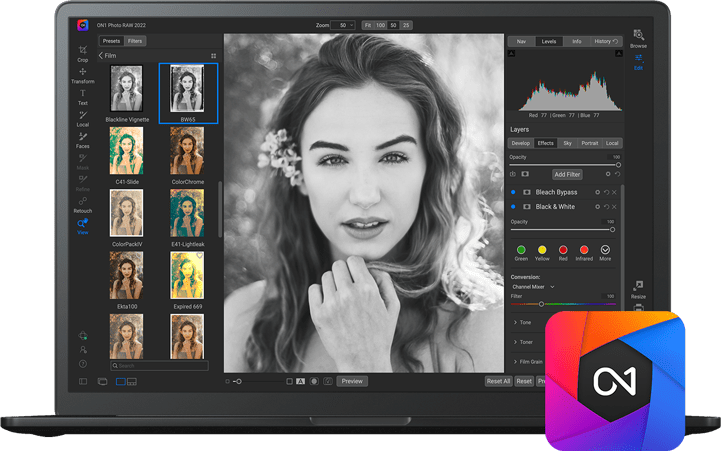 Top 10 Reasons to
Switch to ON1 Photo RAW 2022.5
1
You Can Transfer Lightroom® Settings
ON1 Photo RAW version 2022.5 will be available near the end of October or early November. If you pre-order, you will receive an email from us around that time with all of your download information.
2
The Best of Photoshop® & Lightroom Combined
Photographers now have a tool with fast photo management, hundreds of customizable photo effects, fast and beautiful HDR, panos, masking and selection tools, layers, and much more—in one application. No more bouncing between multiples pieces of software.
3
A Better Way to Use Layers
The power of layers is integrated at the heart of ON1 Photo RAW 2022.5 and is included within the non-destructive workflow. Allowing you to take your photo editing creativity to new levels without having to go to another application.
When you purchase ON1 Photo RAW 2022.5 you receive a perpetual license. That means the day you purchase ON1, you own it forever. No subscription.
5
Portrait Retouching with AI
Flawless retouching is just a click away with ON1 Portrait AI. It uses machine learning to find every face in your photo and make them look great, automatically.
6
Powerful Masking & Selection Tools
Making selections and masks doesn't have to be difficult. Whether replacing a sky or selectively applying an effect, each tool in ON1 Photo RAW 2022.5 can tackle it all. You can also selectively apply almost any adjustment with a mask or selection.
7
Hundreds of Built-In Effects & Presets
ON1 Photo RAW 2022.5 includes hundreds of fast, non-destructive, stackable, re-editable, and customizable photo effects providing endless creative possibilities. Popular effects include HDR Look, B&W, Lens Blur (tilt shift), Glows, Color Enhancer, Tone Enhancer, Textures, Borders, Film Looks, Split Tone, and much more.
8
HDR, Focus Stacking, & Pano Stitching
Create stunning HDR photos that merge all tonality from a bracket of photos in a fraction of the time of other HDR apps. Blend multiple photos at different focus distances to increase depth-of-field. Combine multiple photos into a single panoramic or matrix photo. Photo retouching tools are available throughout ON1 Photo RAW 2022.5. Cloning, healing, removing blemishes, reducing noise, content-aware fill, and more.
The ultra fast photo browser is perfect for quickly viewing and culling through photos without having to wait on an import process. Once the culling process is done, the ability to create and catalog those photos is the next step in most common workflows.
10
Enlarge Photos Using Genuine Fractals
ON1 Resize is included in ON1 Photo RAW 2022.5 and it's been the industry standard for photo enlargements for over a decade.
Two Ways to Switch from Lightroom to ON1
Are you ready to switch from Lightroom (only latest release of Lightroom 6 & Lightroom Classic CC) to ON1 Photo RAW 2022.5? If so, we want to make it as smooth as possible. There are two common migration paths and both depend on how you store your photos. Let's begin!
Want to migrate your organization from Lightroom?
We want you to maintain as much as you can from Lightroom so your time is not wasted. Our free Lightroom Migration Tool will assist transitioning from Lightroom.
Step 1. Find your photos
Connect any external drives or shares containing photos that you want to migrate. Then use the Sync Folder command in Lightroom to make sure your Lightroom catalog and the actual files are up-to-date. This will add any photos that Lightroom is missing as well as remove broken links.
Step 2. Pre-organize
Remove any photos, virtual copies, or collections that you don't care about. It's also a good time to reorganize your folders a bit if necessary. If you have multiple catalogs, rinse and repeat.
Step 3. Make the switch!
Next, install ON1 Photo RAW 2022.5 if you haven't already. Then open Lightroom and go to the File > Plugin Extras menu. Then select Migrate Catalog to ON1 Photo. You will see a dialog that looks like the one below.
The Migration Assistant will add the top-level folders in the Folders pane in Lightroom to Cataloged Folders in Photo RAW. All of the photos inside of these folders will be cataloged automatically. Your collections and Metadata changes made in Lightroom will be migrated and includes keywords, descriptions, ratings, labels, orientation, etc.
Lastly, RAW processing and editing settings from Lightroom's Develop module including crop, retouching, and local adjustments are migrated non-destructively so they can be re-edited in ON1 Photo RAW 2022.5.
View the Full Instructions
Manage your photos in folders or sub-folders?
If you store and manage photos in a folder and your photos are then organized in sub-folders making the switch is easy. This path also assumes any edits you have made to your photos are stored in the photos themselves, or copies of the original photos. This is the case if you have been using a normal pixel-editor like Adobe® Photoshop® or Photoshop Elements®. Simply open ON1 Photo RAW 2022.5 and browse to the location where your photos are stored.
If you have top-level folder (like your My Pictures folder) set it as a cataloged folder. Go to the File menu and select Add Cataloged Folder. This will add all of your folder and the photos in those folders to ON1 Photo RAW. Cataloging occurs in the background and extract and catalogs the images metadata as well as a screen-sized preview so you can search and move between photos lightning-fast. That's it, you're done.
Switching from the Adobe® Photography Plan?
See how ON1 Photo RAW 2022.5 compares to other raw processors and photo editors on the market.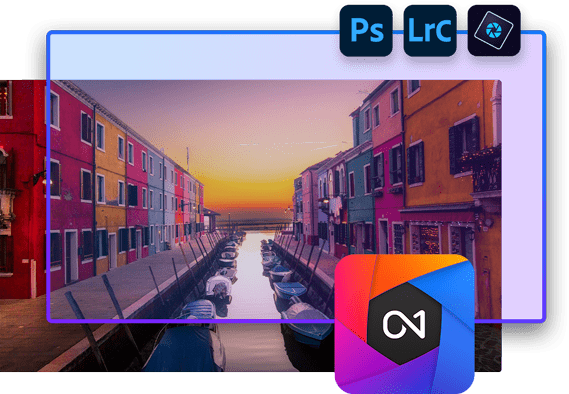 Migration assistant to transfer Lightroom settings to ON1
No subscription
Own it forever
Hundreds of free training videos
Open cloud storage integration
World-class service and support
New ON1 Photo RAW 2022.5
The Ultimate Photo Editor
The new ON1 Photo RAW 2022.5 gives photographers the ultimate image quality with the state-of-the-art raw processing engine, superior noise reduction with NoNoise AI, incredible filters and presets in Effects, automated portrait retouching tools, and now the best photo enlargement software, ON1 Resize AI, fully integrated.
Own it Outright OR Subscribe — Your Choice!

Photo RAW 2022.5
Upgrade License

Photo RAW 2022.5
Full License
Best Value

+

+

ON1 Everything
Photo RAW 2022.5 + All Plugins + Cloud Sync
Subscribe & Get It All!
Choose Yearly or Monthly:
Always have the latest version!
Frequently Asked Questions
If I order ON1 Photo RAW 2022.5, what will I receive?
You will receive ON1 Photo RAW 2022.5 for standalone use with all of ON1's most powerful editing tools in one app: Resize AI, Effects, NoNoise AI, Sky Swap AI, Portrait AI, HDR, Time-Lapse, and more. If you choose the Subscription option, you'll also receive all 5 individual plugins plus all future products and upgrades.
Does Photo RAW 2022.5 include the new ON1 Resize AI?
Yes. Resize AI is accessible inside Photo RAW 2022.5 for standalone use. If you want plugin compatibility with Adobe and other host apps, the Resize AI plugin is available separately here.
If you want Photo RAW and all the individual plugins, you can subscribe to Photo RAW and get everything. Or, you can get a license (own forever) for all 5 individual plugins in addition to Photo RAW here.
What are the new features in Photo RAW 2022.5?
Version 2022.5 includes all of these new features:
Built-in ON1 Resize AI
Improved Sky Swap AI
LensMatch Automatic Lens Correction
Improved NoNoise AI
Support for new cameras: OM System OM 1, Leica M11, Fujifilm X-T30 II, Nikon Z 9, and more
Version 2022.1 (which you will get today) added all of these powerful new features:
Liquify Tool
Advanced Search
Smart Albums
Snapshots
Crop Tool Presets
Visualize Dust When Retouching
Topographic Map
Many Performance Improvements
Improved Sky Swap Masks
New Cameras and Lenses
Version 2022.0 (released in September 2021) added these new features:
Built-in NoNoise AI
Sky Swap AI
Time-Lapse creator
New line-mask tool
Remastered Export module
Browse enhancements
Improved speed and performance
All the tools we've added over the years have been updated in 2022: Browse, Develop, Effects, NoNoise, Resize, Portrait, Layers, HDR, Focus, and more!
What are the benefits of purchasing the subscription?
You get it all - ON1 Everything. A subscription gives you a ton of great benefits and is by far the best value. You will always get the latest version of ON1 Photo RAW so you are always up to date. You'll never have to buy an upgrade again. In addition, you get ON1 Cloud Sync which allows you to sync your photos and settings across multiple computers and mobile devices with ON1 Photo RAW and ON1 Photo RAW for Mobile. You'll also receive the latest ON1 plugins (NoNoise, Effects, Resize AI, Portrait AI, HDR) to use with host applications like Lightroom Classic, Photoshop, Capture One, Affinity Photo, Apple Photos and Corel Paintshop Pro. You will always have the latest ON1 plugins and receive any future plugins too!
What are the subscription terms?
Your subscription begins immediately after the initial payment is processed. The subscription will automatically renew at the end of the chosen billing period (monthly or yearly) without notice until you decide to cancel. You authorize us to automatically charge your method of payment at the end of each term until you decide to cancel. Applicable taxes (VAT or GST may also be incurred) each billing period of your subscription until you cancel.
The credit card must remain up-to-date or billable throughout the term in order for the account to be eligible for free product updates. If your payment method fails, you will have 14 days to update the payment method via your account page. After 14 days, access to the software and/or service will be suspended until a successful payment has been processed for your subscription.
What are the subscription cancellation terms?
You can cancel your subscription any time via your Account page or by contacting Customer Service. If you cancel within 14 days of your order, you will receive a full refund. If you cancel after 14 days or turn off auto-billing, your initial payment is non-refundable but your subscription will continue until the end of the term (monthly or yearly) with no future billing.
What are the benefits of purchasing the non-subscription license for Photo RAW?
All of ON1's new editing technologies are included in Photo RAW 2022.5: Resize AI, NoNoise AI, Sky Swap AI, Time-Lapse, Browse, Develop, Effects, Portrait AI, HDR, Layers, and more. When you purchase the non-subscription license, you'll get free updates throughout the year with new features added. When the next major version is released in the future (yearly) you can purchase an upgrade or stay with version 2022 for as long as you like.
Is ON1 Photo RAW a standalone photo editor? Does it work as a plugin?
ON1 Photo RAW 2022.5 is an all-in-one photo editor that contains all of our editing tools. It's like having Photoshop and Lightroom in a single application. Built-in features include ON1 Resize AI, NoNoise AI, Sky Swap AI, Time-Lapse, Browse, Develop, Effects, Portrait AI, HDR, Pano, Focus, and more.
If you use Adobe, Capture One, Affinity, Corel, or Apple Photos as your primary photo editor and want to use ON1 plugins for those host applications, you'll want the ON1 Professional Plugin Bundle. It includes 5 individual plugins: Resize AI, NoNoise AI, Effects, Resize, and HDR. It does not include Photo RAW or its built-in features like Sky Swap and Time-Lapse.
If you want all 5 individual plugins in addition to Photo RAW, you can subscribe to Photo RAW and get everything (also includes Cloud Sync). Or, you can get a non-subscription license for Photo RAW and a license for each individual plugin on sale here.
What if I'm not satisfied with Photo RAW?
We think you're going to love ON1 Photo RAW 2022.5, and we've got new features coming soon via free updates for owners. If you are not satisfied for any reason, just contact us within 30 days for a full refund.