ON1 Sky Swap AI
Sky Replacement Made Easy
AI Sky Replacement Software
Sky Swap AI
Powered By OcuDrone
Sky Swap AI makes replacing or enhancing a dull sky a breeze. It detects the sky in your photo and creates a gorgeous mask automatically. Simply select from one of the 231 included skies or import your own. 125 of the built-in skies are sourced from OcuDrone, a leading provider of ultra-high resolution aerial images. Our AI sky replacement software combines machine learning with amazing curated skies to eliminate the need for complex masks and layers normally required in other editing apps.
Sky Swap AI is also built into the ultimate all-in-one editor, ON1 Photo RAW 2023.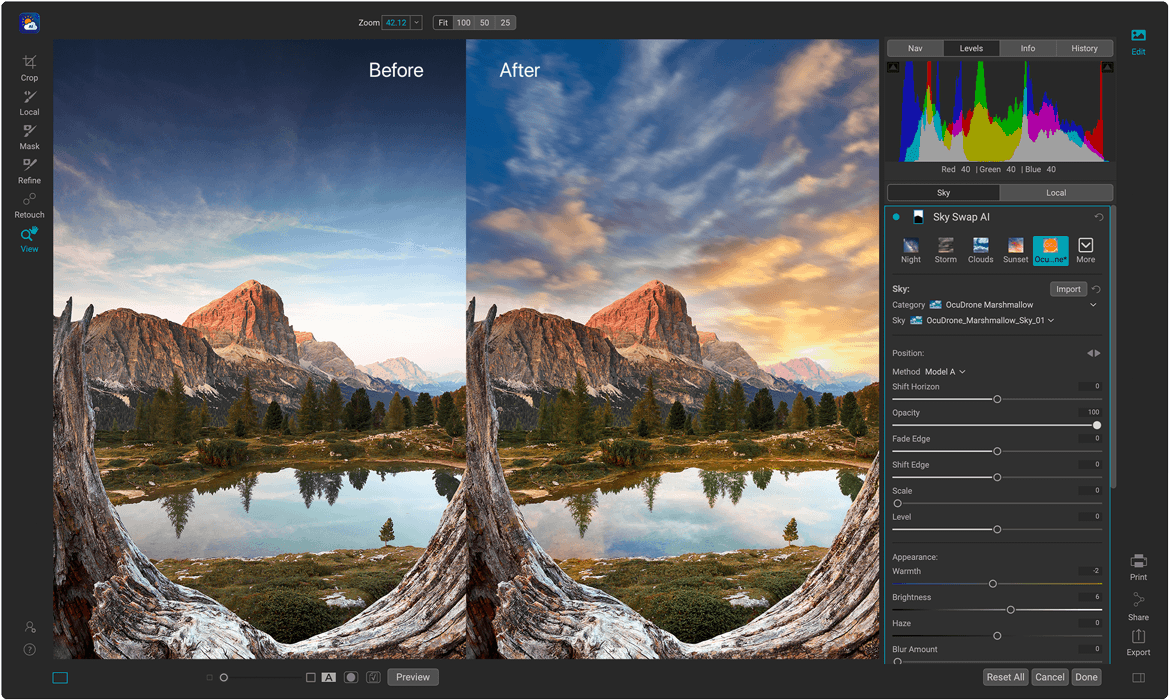 Automatic Sky Replacement
AI automatically detects the sky and creates a high-quality mask to blend in with a new sky.

125 Built-in Skies by OcuDrone
Amazingly beautiful 8K UHD images with smooth horizon lines for easy and natural transition blending.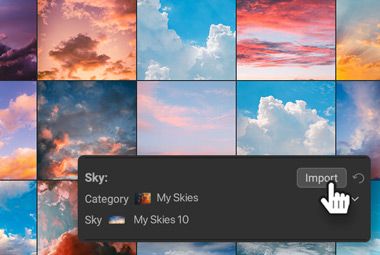 Use Your Skies
Have amazing skies? You can import them into Sky Swap AI and use them automatically.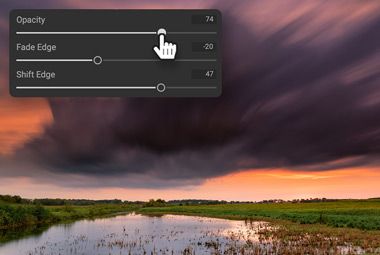 Easily Adjusted
The mask generated by Sky Swap AI is easily adjusted to allow you to blend into an existing sky or completely replace it.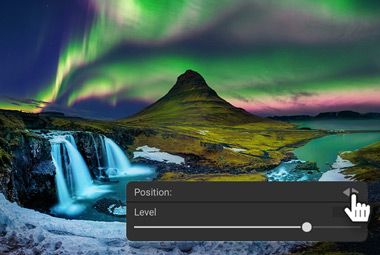 Flip or Rotate Sky
You can also adjust the horizon and rotation of the sky. Even flip it to match the direction of light.
Natural Results with Sky Swap AI
Sometimes you don't want to replace a sky completely; you want to blend in some additional clouds, for example. Our AI sky replacement gives you everything you need to blend a new sky realistically with an existing one.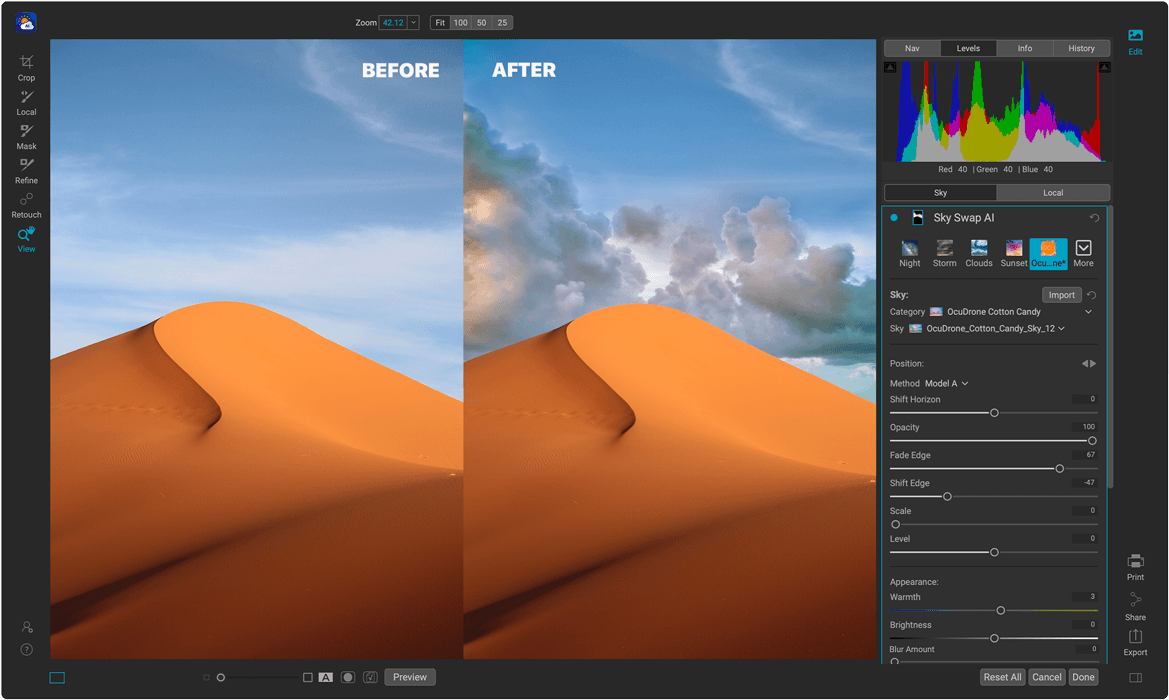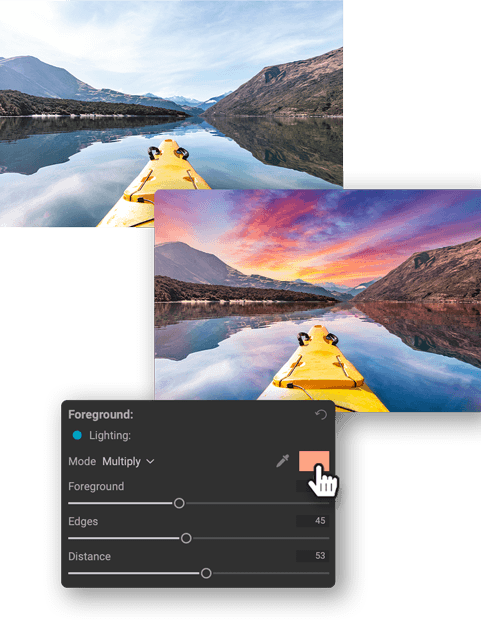 Foreground Match
Automatically or manually match the foreground color and tone to the mood of the new sky.
Water Reflection
When your photo contains water in the background, like a lake or sea, you can add a realistic reflection.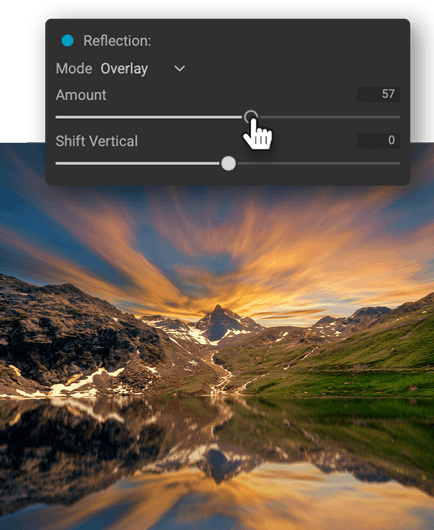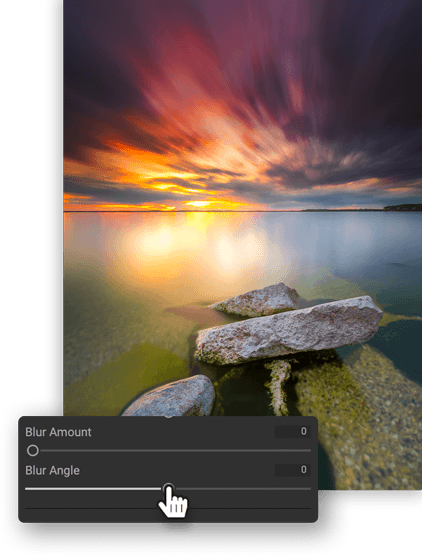 Long Exposure Look
Add motion blur to the sky to simulate a long exposure. You can also adjust the blur amount and angle.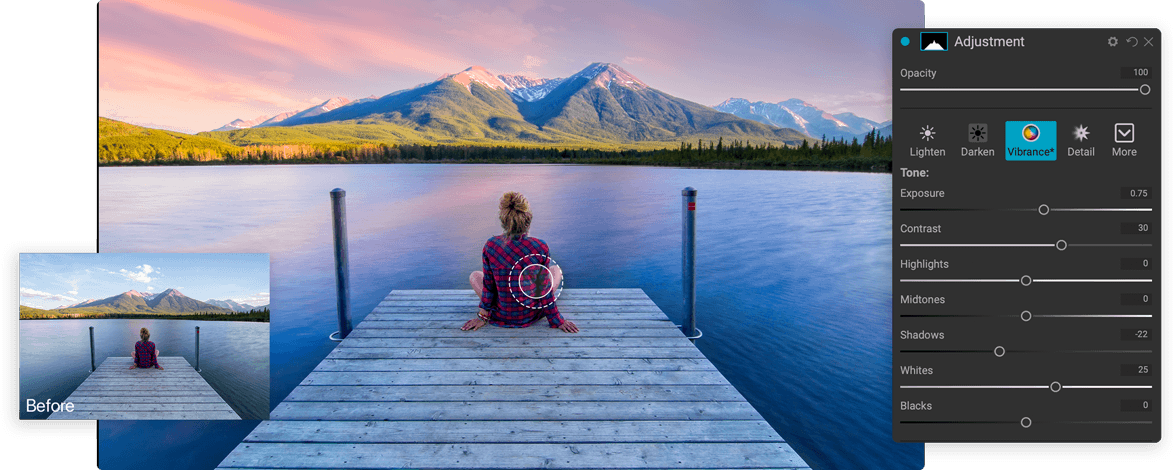 Local adjustments let you burn and dodge, adjust color, sharpness, and more anywhere in your foreground.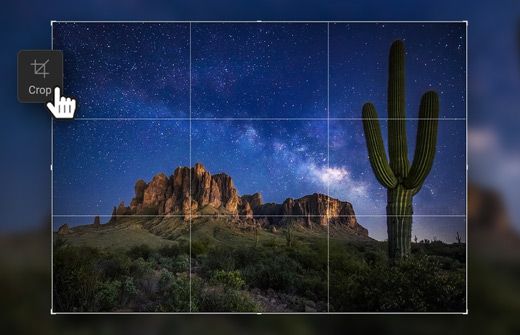 Crop your final work to any needed size.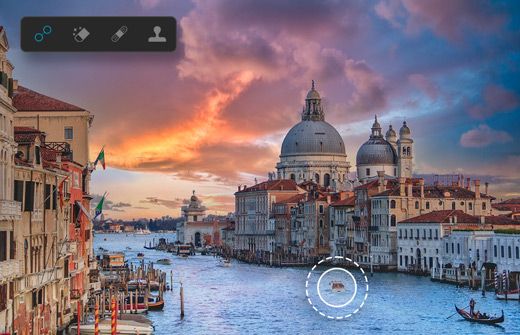 Retouching tools to remove distractions and dust from the foreground.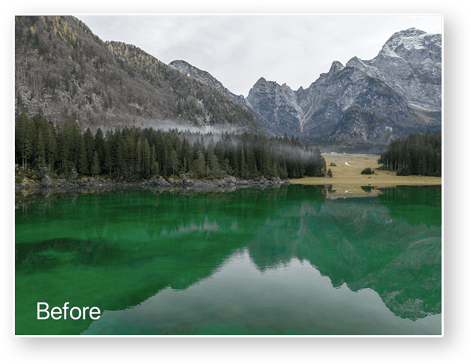 Sky Replacement Software that Plugs In to Your Workflow
Bring the power of Sky Swap AI into your workflow. Whether you work in Adobe Photoshop, Photoshop Elements, Lightroom Classic, Capture One, Affinity Photo, Corel Paintshop Pro, and Apple Photos, you have seamless access to it.
Sky Swap AI 2023 Requirements
Operating System
macOS 10.15.6 and above
Windows 10, 11
(current maintenance releases, 64 bit only)
Processor
Intel® or AMD processor with 64-bit support; 2 GHz or faster processor with SSE 4.2 or later or Apple Silicon
RAM
8 GB
Hard Drive
2 GB for installation
Graphics
Windows - DirectX 12, DirectML, Vulkan 1.1, and OpenGL 4.2 compatible video card with 2GB VRAM, 1920x1080 resolution (at 100% scale factor)
macOS - Metal, Vulkan 1.1, and OpenGL 4.2 compatible video card with 2GB VRAM, 1920x1080 resolution (at 100% scale factor)
Optional Integration
Photoshop CC 2020 and above
Photoshop Elements 2020 and above
Photoshop Lightroom Classic 2020 and above
Apple Photos
Affinity Photo
Corel Paint Shop Pro 2019 and above
Capture One 10 and above
Internet
A high-speed internet connection and active account for activation, auto-update checking, content downloads, and tutorials.
Supported Options
Supports pressure-sensitive tablets for controlling brush size and/or opacity
Supports ICC/ICM profiles for camera input, display, soft-proofing, and printing. Hardware display calibration tool is recommended
Supported Languages
English, German, Spanish, French, Japanese, Korean, Simplified Chinese, Russian, Portuguese, Italian, Dutch
Own Sky Replacement Software Outright
Buy ON1 Sky Swap AI by itself or, if you don't need plugin functionality, get it as part of ON1 Photo RAW - the ultimate all-in-one raw photo editor. You'll own it outright and receive free updates to version 2023.

ON1 Sky Swap AI 2023
Works as a Standalone Application & Plugin
Prices and order total include VAT/Tax
Includes all ON1 Sky Swap AI 2023 version updates and activation on 2 computers

ON1 Photo RAW 2023.5
Own it. Works as a Standalone App.
On Sale!
Prices and order total include VAT/Tax
On Sale!
Prices and order total include VAT/Tax
Includes all Photo RAW 2023 version updates and activation on 2 computers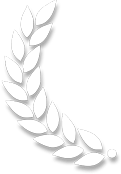 The ON1 Guarantee
No Risk • No Questions Asked • 30-Day Money-Back Guarantee • World Class Support • Tons of Free Training Videos