Get The Next 2 Generations of ON1 Photo RAW for 1 Low Price!
Now is your chance to get the new ON1 Photo RAW 2017.6 AND a free upgrade to the next major version coming very soon, plus 4 essential ON1 Master Courses all for one low price! ON1 Photo RAW includes new versions of Browse, Effects, Resize, Layers, and Develop. It works with almost any file type (not just raw files) and you can use it as a standalone app or as a plugin for Adobe Photoshop and Lightroom. Your purchase is backed by our 30-day money-back guarantee.
Offer expires October 3, 2017
30-day Money-back Guarantee - Install on up to 5 computers, Mac or Windows
Compare ON1 Photo RAW 2017.6 with ON1 Photo 10
ON1 Photo 2017.6 is loaded with new features and improvements over the previous version!
A super fast non-destructive workflow
New faster GPU rendering & processing algorithms for superior quality
Faster ON1 Effects with mid-stack rendering
Powerful local adjustment brushes and gradients
Instant module switching - move between Browse, Develop, and Effects seamlessly with no apply time
Easily apply Effects & Develop presets from Browse, instantly and non-destructively
Quickly copy/paste/sync photo settings
Easy lens correction with chromatic aberration removal
See all of the new features »
See What's New in ON1 Photo RAW 2017.6
ON1 Photo RAW 2017.6 is built on a state-of-the-art raw processing engine and image-processing pipeline, Photo RAW. It also includes some of the best new and must have features. You will love the NEW ON1 Photo RAW 2017.6 and now is the best time to buy or upgrade!
"...the newest offering of ON1 Photo RAW 2017 is a powerhouse that will serve both amateur and advanced users alike. The Develop module offers everything a digital darkroom addict could ask for and the Effects module only deepens the possibilities with additional filters and editing tools..."
"So many new features have been included in 2017.6 that add value. Lens Corrections and Chromatic Aberration reduction are critical in the initial stages of my workflow. I am really glad to see them in there now."
Blake Rudis, Professional Photographer
"If you ever have been waiting to move from Lightroom over to ON1 - and I personally know many of you have been - then now is definitely the time to seriously take a look at ON1 Photo RAW 2017.6."
Matt Suess, Professional Photographer
"...to really discover what it can and cannot do, one should use it on its own and not as an app for something else, because there is a full photo editor there, waiting to be found."
Jose Antunes, Pro Video Coalition
"Once you get to grips with the way it works, it's really quite logical - and it's certainly very powerful. The Effects module continues to be the most impressive part of this program, and you can create some great image effects with comparatively little time, effort, and experience."
Rod Lawton, Life After Photoshop
"I love the way the new Details panel in Develop lets me do nuanced and powerful noise reduction and sharpening."
Hudson Henry, Professional Photographer
"...the fantastic news is that ON1 is one of those companies that really listens to their customers."
Eric Marks, Finding Middle Earth
"I've used all the RAW editors out there and each one has virtues and flaws. For more serious photographers and pros, using a combination of image editing software is a must and ON1 Photo RAW 2017.6 is a permanent part of my RAW image editing workflow."
Ken Kaminesky, Professional Photographer
"The new Develop Workspaces in ON1 Photo Raw are a simple, refreshing, and surprisingly effective addition to (or subtraction from?) my workflow. Every second and every click I can save, I'm in."
James Brandon, Professional Photographer
"...they (Adobe®) require a lot of practice with ten different ways to perform the same action. In ON1 Photo RAW 2017.6 we have a much simpler and intuitive way of working."
The Ultimate Set of Plug-ins for Lightroom® and Photoshop®
Super fast browsing and culling for a front end to your Adobe® workflow
A complete collection of the best photo effects available
Superior quality results using our state-of-the-art processing engine
Easy-to-use layers for advanced editing or compositing
The industry standard for photo enlargements using Genuine Fractals® technology
Included with ON1 Photo RAW 2017.6

Photo Organizer
Fast Browsing & Cataloging Built for Speed
You get lightning fast photo browsing for culling and organizing with the powerful features of a catalog system to stay organized. It's the best of both worlds. The open system also allows you to connect with popular cloud storage systems, giving you access to your photos anywhere.
Photos by Hudson Henry, Colby Brown

Photos by Hudson Henry, Colby Brown

Photos by Hudson Henry, Colby Brown

Photos by Hudson Henry, Colby Brown

Photos by Hudson Henry, Colby Brown
Browse - Lightning fast browser with no import process to slow your editing
Catalog - Powerful cataloging capabilities
Organize - Organize photos with keywords, labels, ratings, tags, filters, common metadata, albums, smart albums, and much more
Store & Edit - Store and edit your photos anywhere using an open system (local network and cloud)
Photo Editor
Powerful Tools to Do More with Your Photos
From making common adjustments to exposure, shadows, and highlights, to removing unwanted objects, color casts, and reducing noise, ON1 Photo RAW 2017.6 has you covered. With built-in layers, brushes, and advanced masking tools, it's easy to see why it's the ultimate tool for photographers.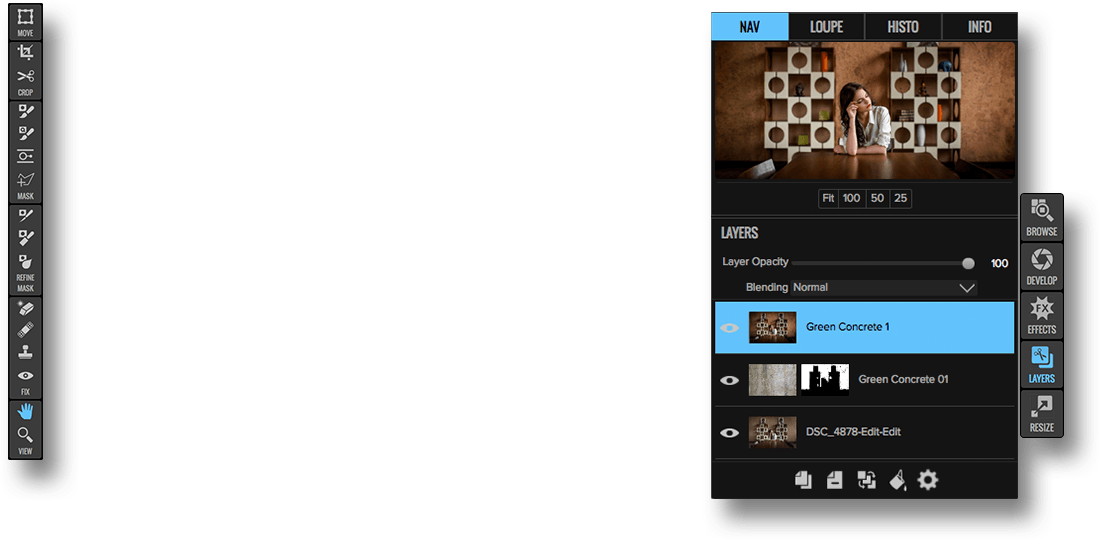 Photo by Maxim Guselnikov
Non-destructive workflow for editing photos while leaving the original file intact
Controls for perfect retouching and the best details
Selectively apply adjustments and masks, and use blend modes, luminosity masks, and retouching tools
Sync, copy, and paste your settings across multiple photos with the click of a button
Make adjustments to photos that colleagues can access and edit where you leave off
Industry standard for photo enlargements using Genuine Fractals
Work seamlessly with your other editing apps as a plug-in or standalone app
And more! You'll get a full range of easy-to-use editing tools every photographer needs to produce powerful results
Raw Processor
A Fast State-of-the-art Raw Engine
Our state-of-the-art raw processing engine, Photo RAW, is what you need for recovering the ultimate details from raw files. It's also fast—really fast! This super-fast processing engine lets you open, view, and edit photos in an instant.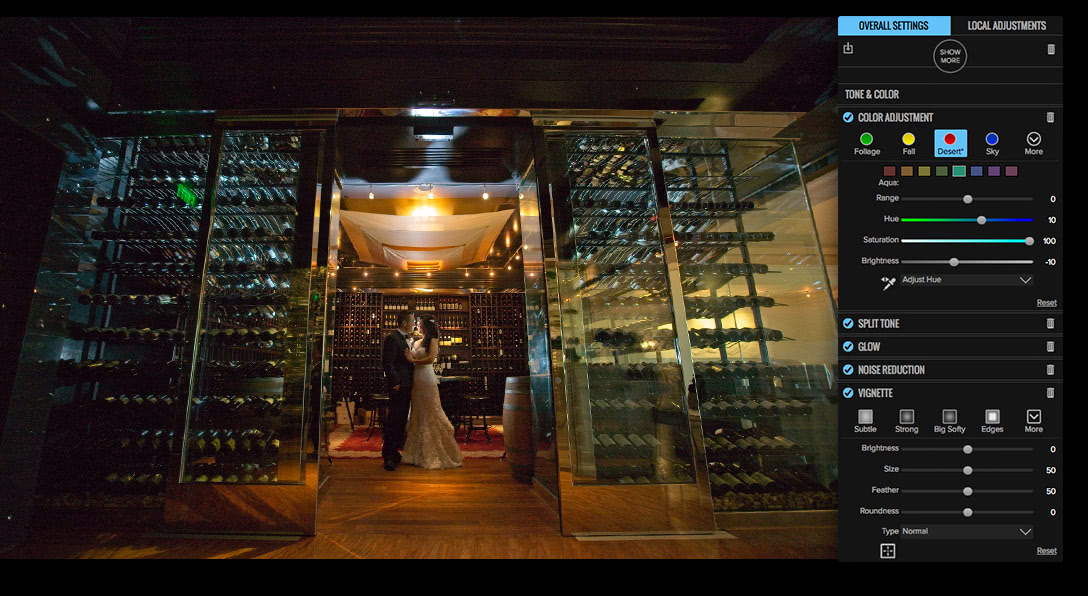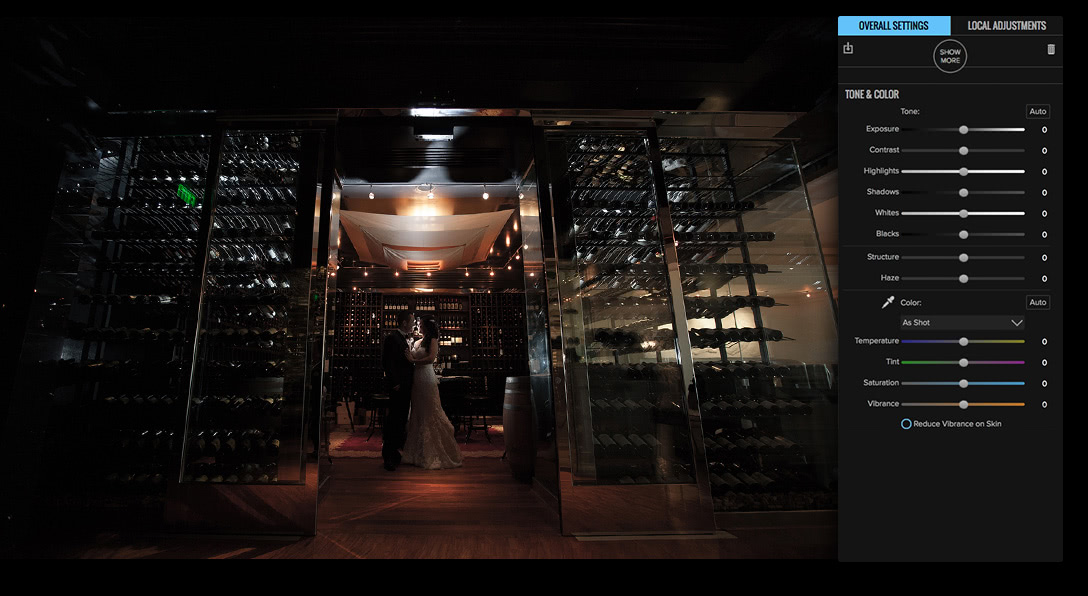 Ultimate Detail
Recover all details and get world-class results from your raw files
Non-Destructive
Instruction-based, non-destructive workflow will also surpass today's raw processors
Develop
All controls from Develop plus Glow, Dynamic Contrast, and Skin Retouching
Support
Also supports JPEG, TIF, PSD, PSB, PNG, and DNG
Effects App
Make Your Photos Great
The world's best effects for finishing your photos. Non-destructive, stackable, and re-editable photo filters and presets.
Quickly create your look or recreate any popular style
Stackable filters, presets, borders, overlays, and textures
Create and save your own custom presets and styles
Popular styles for HDR, B&W, Color Grading, Cinematic, Matte, Film, and much more!
And There's More
The best collection of filters for stacking and creating your own signature looks along with the perfect tools for selectively applying effects, local adjustments, adjustable gradients, adjustment brushes, masking, and retouching.
Adjustable Gradient
Adjustment Brush Popular
Antique
Black & White Popular
Bleach Bypass
Blur
Borders
Color Enhancer Popular
Cross Process
Dynamic Contrast Popular
Glow Popular
Grunge
HDR Look Popular
Lens Blur
Lens Flare
Noise Reduction
Photo Filter
Portrait Enhancer Popular
Sharpening
Split Tone Popular
Sunshine
Texturizer Popular
Tone Enhancer Popular
Vignette Popular
Vintage
GET 2 for 1!
Includes
Big
Bonuses
Huge Savings!
ON1 Photo RAW 2017.6
$119.99
Free Upgrade to Next Version of ON1 Photo RAW
$99.99
4 ON1 Photo RAW 2017 Master Courses
$199.96
ON1 Loyalty Rewards
$49.99
Total Value
$469.93
Offer expires October 3, 2017
Try it free for 30 days »