ON1 360 is a unique end-to-end photography workflow solution for capturing, editing, and accessing photos seamlessly between multiple computers and devices. In tandem with ON1 RAW 2020.5 and the new, free ON1 Photo Mobile, it's an entire ecosystem giving you more flexibility, choice, and control compared to typical cloud services.
Why You Need ON1 360.
With ON1 360, you'll be able to view and edit photos no matter where they live, on computers, laptops, smartphones, or tablets. You simply choose which photos you want to share between devices and select your preferred file format for syncing. ON1 360 does the rest automatically, allowing you access your photos from anywhere using Photo RAW 2020.5 and ON1 Photo Mobile (iOS/Android).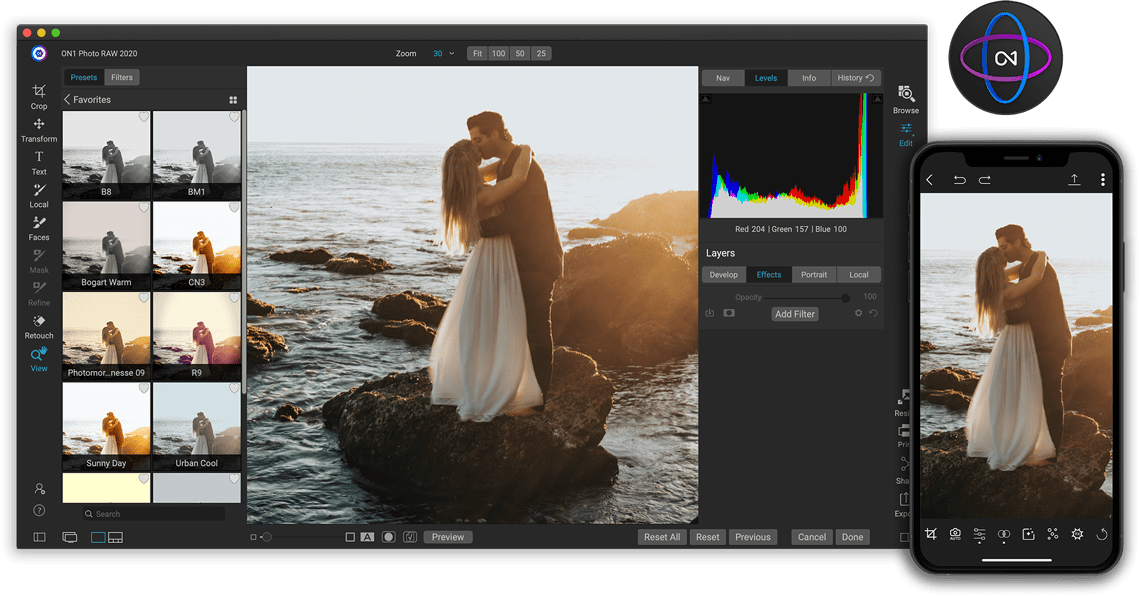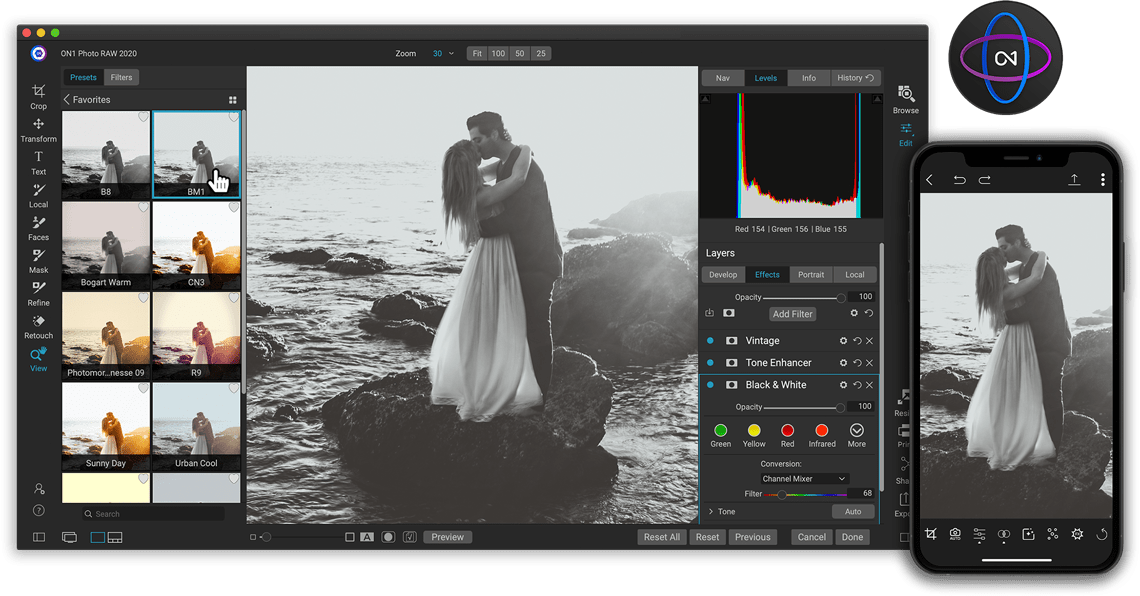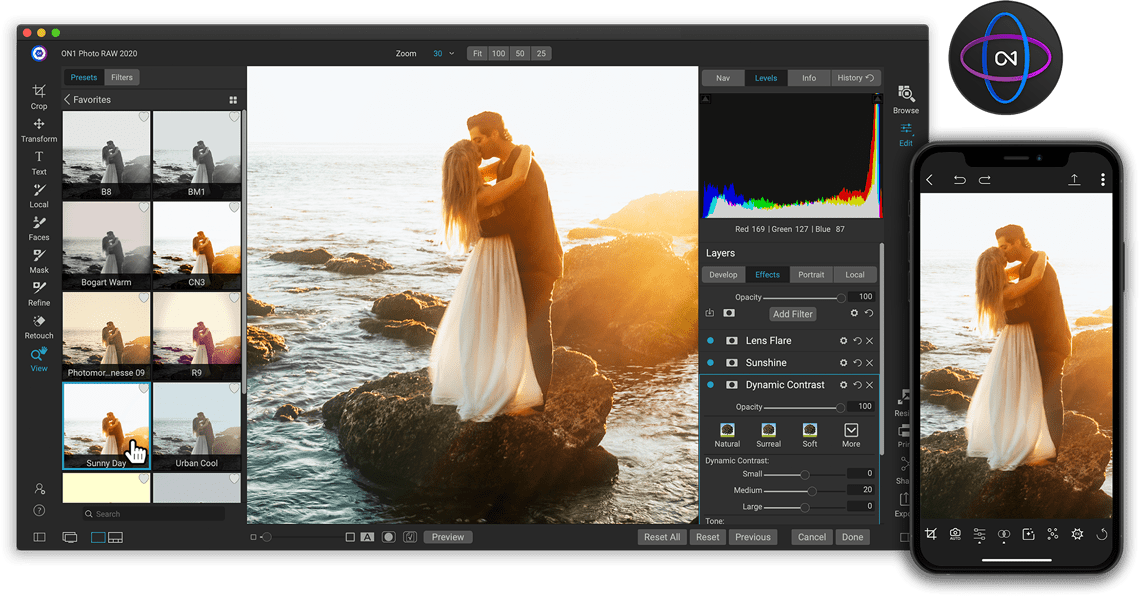 Why ON1 360 is Different.
ON1 360 is unique and unlike other cloud service offerings. ON1 360 allows you to choose which photos or photo folders to sync, where the photos live, as well as their preferred ON1 360 storage format.

More Control.
You control where your files are stored — no need to move them to a cloud. You control which files or folders to share across devices without wasting space on copies you don't need.

More Choices.
You choose your preferred file format with options to sync original raw files or high-quality compressed files which use 25% of the space.

Less Space. Same Quality. Lower Cost.
If you choose to sync high-quality compressed files instead of original raw files, you'll use 75% less storage and maintain the same tonal and color range. There's no visible loss in quality.
Your Choice in How
You Organize.
With ON1 360, your photos remain where they are - on local drives, external drives, or wherever you put them. Simply select which files or folders you want to access across devices, and the files are automatically synchronized for viewing or editing.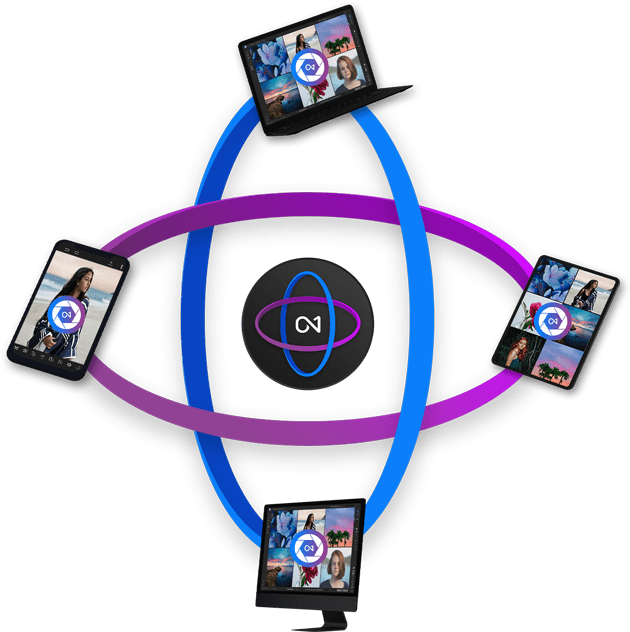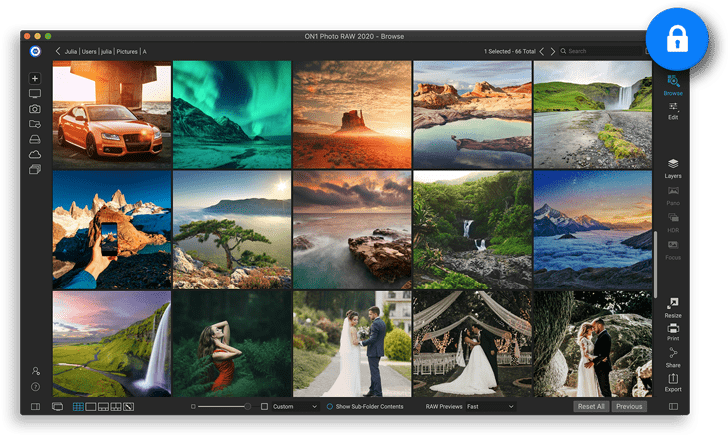 Your Photos Are Private.
Many cloud services analyze and index your photos for marketing purposes. With ON1 360, all your photos are kept private.
The ON1 360 Advantage.
An Integrated Photography Solution.
View and edit any of your photos from a desktop, laptop, phone, or tablet no matter where they are stored.
More Control.
Organize and store photos where you want. You control which photos and folders to sync across devices.
Capture and Create Anywhere.
With the new ON1 Photo Mobile (iOS/Android), you can capture, edit, and sync photos back to your desktop for re-editing in Photo RAW 2020.
Better Flexibility.
What happens if you stop paying? Your photos stay where you keep them. If you are using a perpetual license for ON1 Photo RAW 2020, you keep that too. Purchase what works best for you — your choice.

Pro Features.
Choose between the new ON1 compressed-raw file format to save space, or sync your original raw photos. Either option lets you view and edit your photos from anywhere using the professional tools and features photographers expect.
One Workflow.
An end-to-end photography solution to capture, edit, and access photos seamlessly between multiple computers and devices using ON1 Photo RAW 2020, ON1 Photo Mobile, and ON1 360.
High Value.
ON1 360 offers 10x the storage for 20% less cost than competitive plans. You also have the choice between the subscription and perpetual software license options available.
"I have been using the mobile app and it's really good. I normally do not get excited about software but your team should be commended on this release it works very well."
ON1 Customer
"OK, so I have ON1 360 installed. I was amazed how fast I could see the photos from my computer on my iPhone."
ON1 Customer
"The new ON1 360 is going to blow your mind! Now you have access to any of your photos from all your devices. Plus, you have the ability to easily edit them just the way you like!"
Matthew Jordan Smith | Pro Photographer
"I am LOVING the new ON1 360! I get all the raw editing and effects power of ON1 2020, already my favorite standalone editing software, now combined with the ease of accessing my images from anywhere at any time."
Tamara Lackey | Pro Photographer
Previous
Next