The Best Alternative to Adobe®
Make photo editing fast, easy, and fun... for less! The NEW ON1 Photo RAW 2019.5 is the ultimate alternative to Photoshop and Lightroom in a single application at an affordable price. You get hundreds of one-click presets, filters, textures, and LUTs, easy yet powerful retouching and AI masking tools, Layers, HDR, Pano-stitching, Resize (with Genuine Fractals® tech) and more. Plus, there's no lengthy import process - just point it to any folder and get started!
What ON1 Customers Are Saying
"Exciting... I officially dumped Adobe last year and love that this gets better and better."

—Tanya

"I just dropped my Adobe subscription in favour of ON1. No more LR or PS, ON1 reigns supreme."

—Harry C. (via Facebook)

"I was with LR since version 3. I switched to ON1 about 16 months ago and have never looked back..."

—Carrol M. (via Facebook)

"Photo RAW has completely won me over from Lightroom. Faster, more flexible, far greater depth in working with high definition raw images."

—David H. (via Twitter)

"WOW! I realized that I have not opened Adobe Lightroom for 6 weeks or more since moving to ON1 Photo RAW."

—Joe F. (via Twitter)

ON1 Photo RAW 2019.5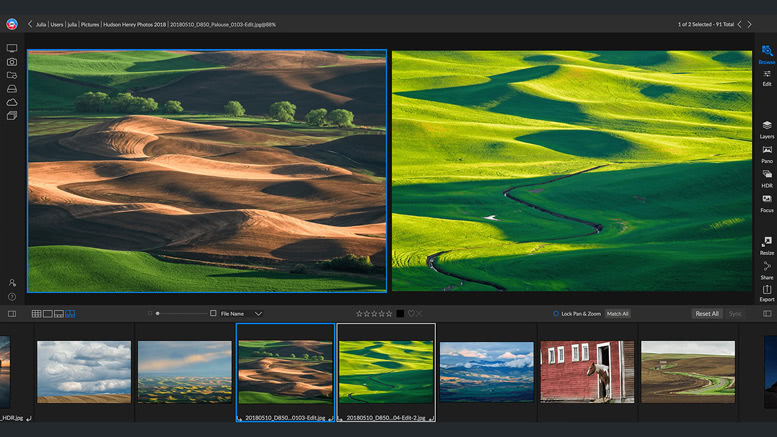 Organize
Quickly browse, organize, manage, and catalog photos in your photo editing workflow.
No Import = No Waiting
Easily Transfer Lightroom Photos
Easy Organization
Open Cloud Storage
Stylize
Hundreds of customizable photo effects, filters, LUTs, borders, textures, and presets—all built-in.
Create Any Look You Want
Combine & Blend Filters
Selectively Apply Effects
Create & Save Presets
Mask
Best-in-class masking tools for both beginners and advanced users. Create detailed masks in seconds, selectively apply adjustments, and easily replace backgrounds.
New AI Quick Mask Tool
Edge Detecting Brushes
Easy-to-Use Masking Tools
Retouch
All the tools you need to fix imperfections and remove distractions.
Remove Distractions
Faster Portrait Retouching
Create
You don't have to be an editing guru to create a masterpiece. Explore your creativity using powerful yet easy-to-use tools.
Create a Work of Art
HDR, Pano, & Focus Stacking
Hundreds of Built-in Assets
Resize & Enlarge

New Version
Now Available
2019.5
Includ
es These New Fe

atures

Dual Mode

Apple® Photos® Extension Enhancements

Selective Sync

Settings Applied Info

Edit History

First Launch Experience
Fast. Easy. Powerful.
Your All-in-One Editing Workflow
Have Questions? We Have Answers.
Read the FAQs
How many computers can I install ON1 Photo RAW 2019.5 on to?
We allow you to install ON1 Photo RAW 2019.5 on up to 5 computers (Adobe only allows for two).
Will I be able to download later on after I purchase?
Yes, you will be able to download your product at any point in the future directly from your account. The download is unlimited.
What file types, cameras, and lenses are supported in ON1 Photo RAW 2019.5?
ON1 Photo RAW 2019.5 supports raw files from over 800 cameras as well as TIFF, PSD, PSB, JPG, PNG, and Apple HEIC files. We get a lot of questions about camera compatibility and a lot of customers purchase ON1 because their current software does not support their camera and we do!
What if I don't use raw files? Can I still use ON1 Photo RAW 2019.5?
YES! YES! YES! ON1 is an excellent choice as your primary photo editor even if you are not editing raw files. It works great for many other supported image files including TIFF, PSD, PSB, JPG, PNG, and Apple HEIC files.
Does ON1 Photo RAW 2019.5 still work as a plug-in for Lightroom® and Photoshop®?
Yes, it is compatible with Photoshop CS6 and CC and higher, Photoshop Elements 14 and above, Lightroom Classic 6 and higher, and Apple Photos.
Do I need to purchase the plug-in version of ON1 Photo RAW 2019.5 separately?
No, you will not need to purchase a separate plug-in version of ON1 Photo RAW 2019.5 like some other applications.
Can I work across multiple computers with ON1 Photo RAW 2019.5?
Yes! This is super easy to do. When you use one of the three supported cloud storage services we offer (Dropbox®, Google® Drive, and Microsoft® OneDrive), you can enable ON1 sidecar files in order to sync your work across multiple computers.
How do I import my photos into ON1?
When you open ON1 Photo RAW 2019.5 you will immediately see this is better than your typical editor. At the heart of the application sits an ultra fast photo browser. You simply navigate to where your photos exist (local hard drive, external hard drive, cloud, etc.) and they will appear in ON1. All without having to import anything. It goes beyond fast browsing though. We do have a way for customers to import, manage, and catalog their photos as well.
I own an older ON1 product. How is this different?
All of the older ON1 "modules" are now integrated in one app. You can now do all of your editing in one place instead of separate modules. Photo RAW incorporates all of the features from ON1 Effects, Resize/Genuine Fractals, and all version of Perfect Photo Suite, Photo 10, and early versions of Photo RAW. New features include HDR, pano, integrated Layers, AI Quick Mask, Portrait, etc. It's faster and better in every way.
Will I lose my older version of ON1 if I install this one?
No. ON1 Photo RAW 2019.5 will install side-by-side with older versions so you can transition at your own pace.