Think of having a single app with digital asset management and the ability to edit your photos with the power of Photoshop-like features in a seamless non-destructive workflow. A single solution from one company where the photography community drives product development and not the shareholders. A product where you get to choose your preferred cloud service and aren't forced into a subscription model. A solution that lets you be in control of where your photos are stored and how to work with them.
This is ON1 Photo RAW 2018.5.
Top 10 Reasons to Switch to ON1 Photo RAW
2 Ways to Migrate to ON1
Are you ready to make the move to ON1 Photo RAW? If so, we want to make it as smooth as possible. There are two common migration paths and both depend on how you store your photos. Let's begin!
Want to migrate your organization from Lightroom?
We want you to maintain as much as you can from Lightroom so your time is not wasted. Our free Lightroom Migration Tool will assist transitioning from Lightroom.
Step 1. Find your photos
Connect any external drives or shares containing photos that you want to migrate. Then use the Sync Folder command in Lightroom to make sure your Lightroom catalog and the actual files are up-to-date. This will add any photos that Lightroom is missing as well as remove broken links.
Step 2. Pre-organize
Remove any photos, virtual copies, or collections that you don't care about. It's also a good time to reorganize your folders a bit if necessary. If you have multiple catalogs, rinse and repeat.
Step 3. Make the switch!
Next, install ON1 Photo RAW 2018.5 if you haven't already. Then open Lightroom and go to the File > Plug-in Extras menu. Then select Migrate Catalog to ON1 Photo. You will see a dialog that looks like the one below.
The Migration Assistant will add the top-level folders in the Folders pane in Lightroom to Cataloged Folders in Photo RAW. All of the photos inside of these folders will be cataloged automatically. Metadata changes made in Lightroom will be migrated to Photo RAW as well.
View the Full Instructions »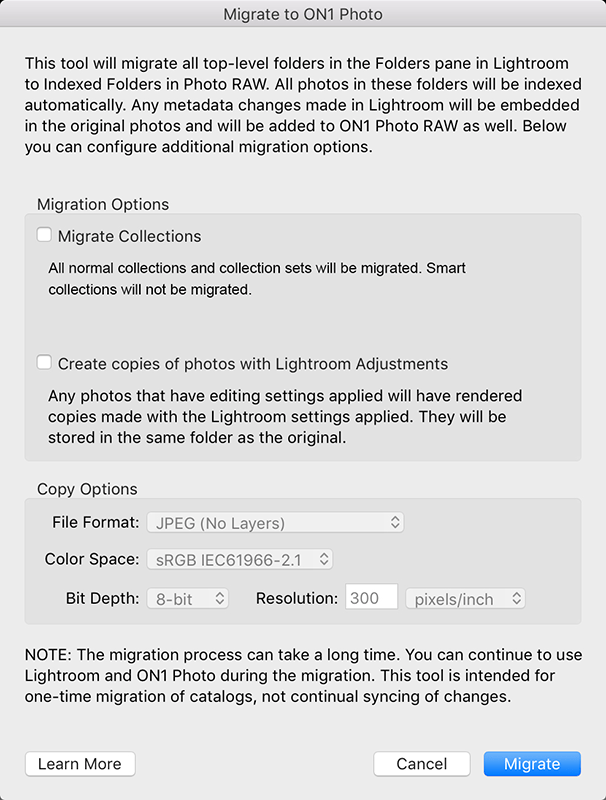 Manage your photos in folders or sub-folders?
If you store and manage photos in a folder and your photos are then organized in sub-folders making the switch is easy. This path also assumes any edits you have made to your photos are stored in the photos themselves, or copies of the original photos. This is the case if you have been using a normal pixel-editor like Adobe® Photoshop® or Photoshop Elements®. Simply open ON1 Photo RAW 2018.5 and browse to the location where your photos are stored.
If you have top-level folder (like your My Pictures folder) set it as a cataloged folder. Go to the File menu and select Add Cataloged Folder. This will add all of your folder and the photos in those folders to ON1 Photo RAW. Cataloging occurs in the background and extract and catalogs the images metadata as well as a screen-sized preview so you can search and move between photos lightning-fast. That's it, you're done.
Switching from the Adobe® Photography Plan?
See how ON1 Photo RAW 2018.5 compares to other raw processors and photo editors on the market.
ON1 Benefits
No subscription
Own it forever
Migration assistant
Open cloud storage integration
Hundreds of free training videos
World-class service and support
See How We Stack Up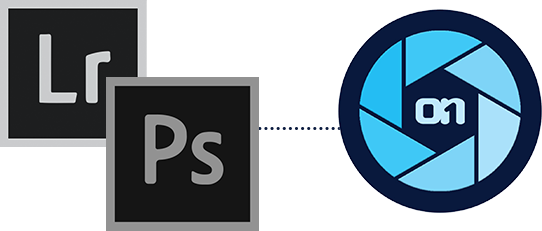 "The release of ON1 2018 is most welcome, especially with Adobe stopping support for standalone Lightroom versions. Will be fully switching to ON1 for development."
"I have been using light room and Photoshop for over 10 years and have been happy with the products however I am far from happy with Adobe's directions. I have been using On1 for about a year for my personal shots but since using 2018 have decided to move all my post production into ON1"
"I began looking for alternatives and was fortunate to find ON1 which has offered high quality software developed by a group of professionals who have a passion toward being responsive to their customers. Being a small nimble company, you have the ability to engage your customer base in guiding your development process which many other larger companies have disregarded."
"I was a Lightroom user for many years and a Photoshop user for the past 12 months but due to the latest developments at ON1 I have finally ditched LR and PS totally. ON1 has photographers needs in mind and I love the work they are doing to improve their software. I can get the results I want with ON1 software and recommend other photographers move over 100% as well."
"I love ON1 and have been really pleased with their product, training classes and my membership in Plus which provides great instructors and monthly bonuses. Not even interested in LR updates or PS."
"I read a blog about alternatives to Photoshop and, at the top of the list, was ON1. I noticed that they were providing Effects 10 for free. Once I tried it, I was hooked. I downloaded a trial version of ON1 Photo RAW and bought the full version before the trial expired."
"Used it for a complete wedding shoot and other client work and it looks like Adobe CC is getting dropped on my part. Good job ON1 :)"
How You Buy
|

How You Own

When you purchase ON1 Photo RAW 2018.5 you receive a perpetual license. That means the day you purchase ON1, you own it forever. No subscription. If you decide to become a member of ON1 Plus Pro, you will also receive a perpetual license of the latest versions of all the ON1 apps as part of your membership.
Launch Special

$99.99 $79.99

Upgrade

For owners of any ON1 product

---

NEW! ON1 Photo RAW 2018.5
25 ON1 Cinematic Color Grading LUTs
10 Hudson Henry Core LUTs
10 Tamara Lackey Color for Dayz LUTs
5 Matt Kloskowski Landscape LUTs
Monthly Loyalty Rewards
Free Technical Support
For Mac and Windows
30-day Money Back Guarantee
Upgrade
Launch Special

$119.99 $99.99

Full

For new customers

---

NEW! ON1 Photo RAW 2018.5
25 ON1 Cinematic Color Grading LUTs
10 Hudson Henry Core LUTs
10 Tamara Lackey Color for Dayz LUTs
5 Matt Kloskowski Landscape LUTs
Monthly Loyalty Rewards
Free Technical Support
For Mac and Windows
30-day Money Back Guarantee
Buy Now
Launch Special

$149.99 $129.99/yr

ON1 Plus Pro

For owners & new customers

---

NEW! ON1 Photo RAW 2018.5 (perpetual license)
FREE upgrades with active membership
25 ON1 Cinematic Color Grading LUTs
10 Hudson Henry Core LUTs
10 Tamara Lackey Color for Dayz LUTs
5 Matt Kloskowski Landscape LUTs
Free Priority Technical Support
For Mac and Windows
Join Now