An All New Photo Editing Experience
ON1 Photo RAW puts the primary needs of photographers all under one roof so you don't have to bounce between multiple pieces of software. It provides the powerful editing tools every photographer needs for professional results while keeping your workflow simple and efficient.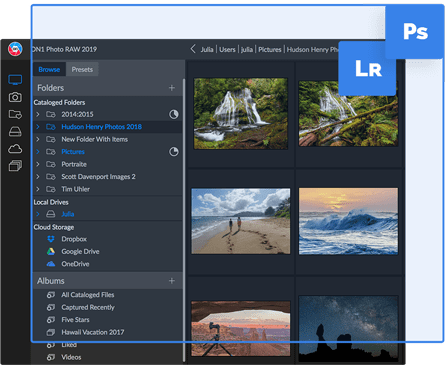 The Alternative to Lightroom® & Photoshop
If you're looking for a Lightroom alternative with powerful Photoshop features, you've come to the right place. With amazing one-click presets and filters, AI-powered masking tools, Layers, Portrait, HDR, Resize and more, ON1 Photo RAW is the ultimate all-in-one editor for professional results at an affordable price. Watch video →
Note: ON1 Photo RAW also works as an Adobe plug-in, giving you instant access to ON1 Effects and ON1 Resize for round-trip editing from Lightroom.
ON1 Photo RAW 2020 Available This Fall
Version 2020 coming in October 2019 (included with your purchase today) brings significant enhancements including new AI-powered features AI Match and AI Auto tone, 4 new filters in Effects (Weather, Sun Flare, Color Balance, Channel Mixer), Custom Camera Profiles with X-Rite, SmugMug integration, improved noise reduction, a map view, a Print Module, and significant speed and performance enhancements. ON1 is also updating the entire preset library with new looks and styles curated from today's hottest photographic trends.
For the first time, ON1 Photo RAW will be available in eleven languages including English, German, Spanish, French, Japanese, Korean, Simplified Chinese, Russian, Portuguese, Italian and Dutch.
Isn't it Time for a Better Photo Editing Experience?
By choosing ON1, you're setting yourself up for photo editing success far into the future with both ON1 Photo RAW 2019.6 and 2020, both of which you will own forever when you purchase today. In early 2020, you'll also be able to enjoy an entire ON1 ecosystem with ON1 Mobile* and ON1 Sync Service*, opening up a new world of editing possibilities across multiple devices while always maintaining control over your photos.
* ON1 Mobile and ON1 Sync service may require additional fees for optional services. Sign up for news and we'll keep you informed about the ON1 ecosystem.

+

ON1 Photo RAW 2019.6 & 2020
Get ON1 Photo RAW 2019.6 Today
FREE upgrade to ON1 Photo RAW 2020 this fall
Install on up to 5 computers - Mac or Windows
30-day Money Back Guarantee
Free Bonus: ON1 Skills Course Bundle [?]
$199.98$99.99
Buy Now